Archive for the 'the onion' tag
Os defensores da "mídia tradicional" e detratores das novas formas de comunicação colaborativas adoram dizer que apenas instituições tem a estrutura e o preparo para nos passar informações abalizadas e completas. Livres de erros e cheias de responsabilidade.
Hoje pela manhã estava vendo o Bom Dia Brasil, algo que não faço há muito, e não sinto falta. É uma tradição que meus pais seguem desde que eu era minúsculo, quando o programa continha cafés da manhã com políticos patrocinados pelo banco Econômico. Nele vi uma "reportagem" que me deixou enojado, falando sobre os trabalhadores das alturas de São Paulo – aquela reportagem que todo mundo já viu umas 10 vezes, que eles guardam na gaveta e reciclam a cada três meses.
Uma matéria de 6:29 minutos gastou exatos 37 segundos com um escalador de janelas em um prédio do Itaim e o tempo restante falando sobre os alpinistas que estavam instalando a decoração de Natal da Ponte Octavio Frias (a.ka. Ponte Estaiada, a.k.a. Estilingão). Uma obra duramente criticada em seu custo e função, em especial fora da mídia tradicional (i.e. blogs – exemplo1, exemplo2, exemplo3, exemplo4, exemplo5…).
O segmento foi emendado por outro falando sobre a decoração de Natal na Lagoa da Pampulha, que ostenta uma árvore tão medonha à luz do dia quando a paulistana. Poucos minutos depois dessa overdose, no meio da previsão do tempo, a gatinha do tempo consegue falar ainda mais sobre a decoração do estilingão.
E agora, no fim do expediente, me deparo com este vídeo:
Aos desavisados: The Onion é um site que produz notícias falsas. De maneira extremamente convincente. É interessante notar como esse programa intencionalmente falso é tão realista que é possível enganar alguns desatentos. Tecnicamente ele é idêntico a um telejornal normal, sendo que sua intenção não é informar, mas fazer rir.
Mas me fez refletir o quanto daquilo que nos é dito nas notícias "verdadeiras" tem de fato o intuito de informar.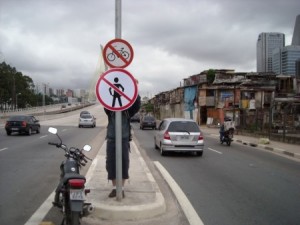 OBS: Vale lembrar que o Estilingão, além de uma ponte onde não circulam bicicletas ou ônibus, é o cenário do jornal local global SPTV.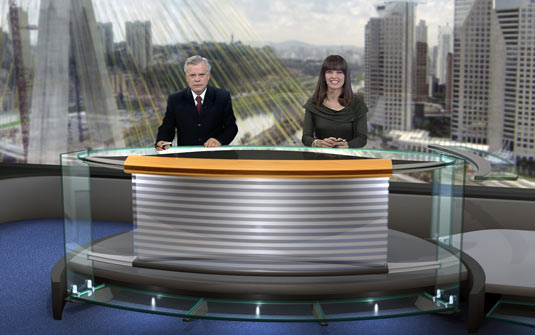 Boa noite.