Archive for the 'teste' tag
Não lembro onde achei, mas fiz um teste para determinar meu perfil socio-economico. O resultado: Sou mais liberal que Gandhi, Nelson Mandela e o Dalai-Lama. Tomem essa, seus hippies!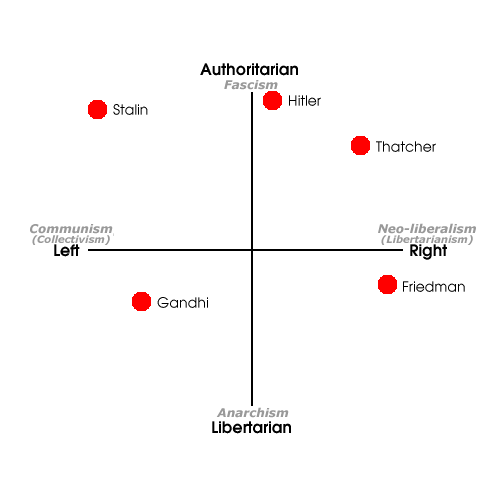 Bom, acabo de fazer o Are You a Wikipediholic Test. Meu resultado foi 94, que é um número bom, pois de acordo com a tabela:
0 – 79 A well-balanced attitude that may benefit by spending more time on WP.
80 – 140 This is the optimal, most productive range.
141 – 224 You are addicted to Wikipedia.
225+ Scores in this range are commonly fatal.
400+ You played a major part in creating Wikipedia or are a ghost. Good job
O simples fato d'eu estar falando sobre a Wikipedia, e estar divulgando meu resultado no teste aqui no blog influenciaram no resultado do mesmo.
Agora, se você está no meu blog e não conhece a wikipedia, nem venha me perguntar o que é. Aliás, aproveite pra visitar os dois artigos que eu comecei:
Hélio Lourenço de Oliveira (meu avô – estou trabalhando para expandir esse artigo aos poucos)

um wikipedian
Alguém que lê isso aqui já conseguiu solucionar um cubo mágico? Ou se quer testemunhou tal feito? Eu nunca tive um desses em casa, e sempre achei muito legal. Agora na casa do André tem um (meio vagabundo, vira e mexe ele trava e não gira, tem que dar um jeitinho).
Depois de ver a Mi brigando tanto com ele, estou eu mesmo tentando agora resolvê-lo. E tá foda.
Sendo um cheater como sou, achei na internet instruções para solucioná-lo, elas estão no meu linkblog, dê uma fuçada nele. E mesmo assim acabei de me ferrar grande. Esta indo até bem, achei que tinha pego o jeito da coisa, e foi então que notei que esmerdiei tudo por ter feito um movimento a menos ou a mais em uma seqüência.
E o segredo é justamente esse, fazer seqüências de movimentos que mexam apenas as peças que você quer e mantenham o restante no lugar. Haja concentração. Jamais subestime o cubo.
by inferno's light
Depois de muito tempo sem fazer nenhum, aqui vai um teste. E esse é divertido, ainda mais que estou lendo "A Divina Comédia" (bem devagar, é verdade, "Encontro com Rama" me fisgou)
The Dante's Inferno Test has banished you to the Sixth Level of Hell – The City of Dis!
Here is how you matched up against all the levels:
Take the Dante's Divine Comedy Inferno Test