Archive for the 'superman' tag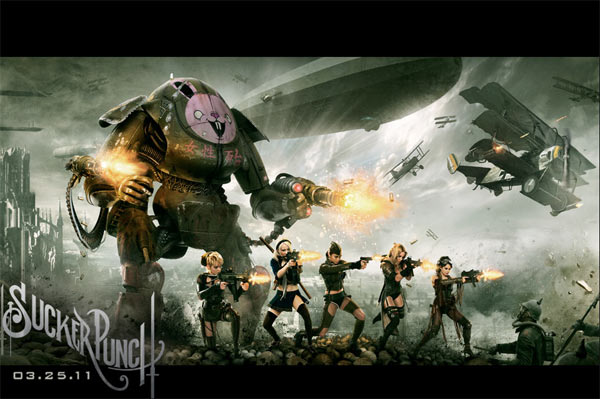 Zack Snyder está longe de ser um gênio, mas é no mínimo competente. Watchmen e Dawn of the Dead são ótimos filmes cada um em seu termo, e embora 300 seja bem fraco, ele ainda tem algum sentido. Sucker Punch é seu primeiro filme totalmente original, o que é um passo importante para qualquer diretor.
E esse passo mostra-se um tropeço dos feios.
Sucker Punch parece o fruto de um pré-adolescente. Aquele que está descobrindo que as meninas podem ser interessantes, e ao mesmo tempo brinca de comandos em ação escondido. O filme é uma desculpa esfarrapada para Snyder embolar tudo aquilo que ele acha divertido, e o resultado chega a ser patético.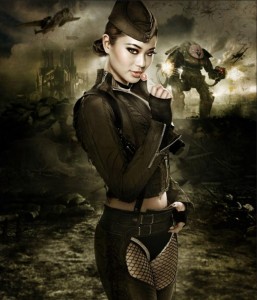 A trama trata de uma garota recém-internada em um manicômio. Que, graças a clichês, desde o começo percebemos ser um lugar terrível. A partir daí a história toda se desenrola na mente da protagonista, Babydoll; criando uma história paralela à realidade para conseguir lidar com a dor que sente e a vontade de escapar.
Histórias que se passam completamente na mente do protagonista raramente prestam. As exceções contamos nos dedos. E Sucker Punch não é exceção. Em alguns concursos literários esse tipo de premissa é inclusive proibida, pois geralmente é um golpe barato para uma reviravolta besta ou, como no caso de Sucker Punch, desculpa para misturar um sem número de elementos desconexos sem realmente ligar nenhum deles.
O propósito da ficção é nos apresentar um mundo diferente. Seja isso sutil como a história de duas pessoas, ou extremo como um universo repleto de alienígenas. E o desafio é tornar essas fantasias algo coeso e que nos prenda, por mais absurdo que possa parecer. Snyder usa a desculpa do "tudo está na cabeça dela" para se eximir dessa responsabilidade e simplesmente jogar na tela tudo que acha divertido. Imaginem o brainstorm:
Snyder: "Então a menina puxa uma espada e enfia no alienígena nazista. Em seguida, com a espada presa na cabeça dele, ela saca uma pistola e atira no dragão que aparece atrás dela. Antes que o fogo do outro dragão torre as mínimas roupas que ela usa na neve, surge uma outra gata pilotando um zepelim e a puxa pra cima com um raio trator."
Amigo do Snyder: "Nossa, que loucura! Pode ser legal. Mas difícil de engolir. Como é esse mundo louco?"
Snyder: "É tudo na cabeça da menina."
Amigo: "Hmmm. Certo, mas como esses elementos se ligam?"
Snyder: "Não precisa, pois é tudo imaginação."
Amigo: "Como assim?"
Snyder: "A história toda se passa na cabeça dela"
Amigo: "Eu entendi, mas qual é a história?"
Snyder: "Isso que eu acabei de te contar."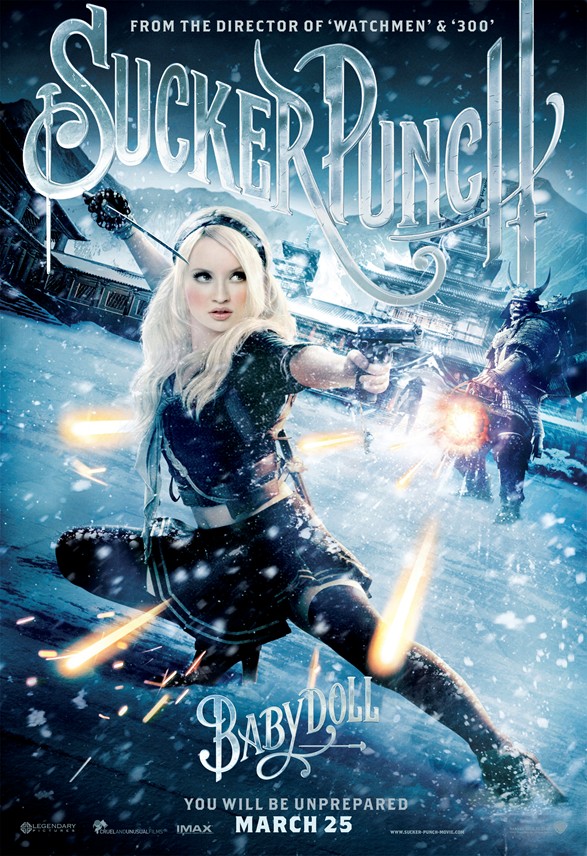 O filme só é minimamente interessante pois há gatas com roupas sensuais, boa música e um visual interessante. E o ritmo de video-game encontra videoclipe é descarado do começo ao fim. E como Snyder não é nada sutil, sua tentativa pífia de inserir alguma moral na "história" é risível.
Não é sequer possível perdoá-lo como ação boba e divertida, pois mesmo no caso de filmes assim, temos personagens interessantes e carismáticos. E não há nenhum aqui, só uma colagem de sotaques, curvas e figurinos. Pedaços ambulantes de carne colorida que não tínhamos a desgraça de conhecer desde Star Wars Episódio I.
Depois disso, Snyder precisa voltar a fazer adaptações. E é justamente o que vai acontecer, com Superman. Mas depois de Cluster Fuck, tenho medo. Sucker Punch is for Suckers.
Antes de colocar meus dois centavos, peço a paciência dos meus leitores para que vejam alguns vídeos. Se você não entende nada de inglês, aviso que será difícil acompanhar já que apenas um dos vídeos é na nossa lingua-mãe.
O primeiro é famoso na web, dica do Marco Gomes, e uma inspiração no meu trabalho com kinetic type. "The Crisis of Credit Visualized" explica com uma excelente animação o núcleo da crise pela qual estamos passando.

The Crisis of Credit Visualized from Jonathan Jarvis on Vimeo.
Eu sei que é muita informação e termos estranhos para acompanhar de uma vez. E se estiver com preguiça de ver de novo, o He-Man
ajuda em português claro:
Como você pode ver, a coisa não está facil. Até Lex Luthor
está passando por dificuldades (dica da Dani)
E a situação é mais ou menos essa. Sendo a origem da crise, e por estar tomando um baita prejuizo (e ainda vai tomar mais), os Estados Unidos e seu líder supremo popstar Barack Obama estão cozinhando várias idéias para resolver a situação e deixar todo mundo feliz.
Uma das medidas é aparentemente simples: Aumentar os impostos dos mais ricos e redirecionar o dinheiro para ajudar os mais pobres com infra-estrutura, habitação, educação, saúde e tudo mais que é legal nessa vida. Algo nada inédito e praticado há um bom tempo na Suécia, aliás.
Mas é óbvio que nem todo mundo vai ficar feliz. E para illustrar, colo abaixo o último vídeo deste post, um clipe do Colbert Report um dos meus programas preferidos e que tenho visto quase diariamente:
É natural que queiramos protejer o que é nosso, independente de tempos difíceis ou não. Por isso trabalhamos duro, guardamos dinheiro e compramos coisas que gostamos. Mas essa noção de que o mundo é justo e que todos aqueles que tem posses as tem por puro merecimento, enquanto os destituídos são um bando de preguiçosos é tão absurda que tenho certeza haver uma palavra pra isso que vai muito além de "elitista".
Existem inúmeros meios pelos quais pessoas ficam ricas. Em uma conversa outro dia ouvi a afirmação de que "Muitos brasileiros sentem vergonha de serem ricos pois no Brasil posse está associada a corrupção." Embora esse não seja um sentimento partilhado por todos os brasileiros abonados, com certeza faz sentido. E ser corrupto, assim como trabalhar muito é uma das maneiras de se encher o bolso. Não são apenas esses dois extremos, muitas pessoas não são corruptas, fazem tudo dentro da lei, mas conhecem tão bem como o sistema funciona, e como dribá-lo que acabam sim por se aproveitar de menos destituídos para benefício próprio. Não acredita? Veja o primeiro vídeo de novo por favor.
O mundo não é justo. Longe disso. E ele é assim pois a maioria de nós, pobres, ricos e mais ou menos costuma enxergar apenas o que nos afeta diretamente. Curto-prazo. Eu ao menos creio nisso. Todos nós exercemos diferentes papéis na sociedade, alguns de maior, outros de menor relevância (não direi importância) e com remunerações e benefícios drasticamente variantes. Conheço pessoas de diferentes posses, e dentre elas, diferentes graus de disposição para trabalhar. E mesmo os mais indispostos, salvo raras exceções, eu não chamaria de mal-intencionados, apenas mal-informados.
Há inúmeras histórias de pessoas que tinham tudo e não viraram nada. E dos que tinham nada e conquistaram tudo. Isso devia, mas não exemplifica justiça. Mostra que é possível vencer e perder independente das origens. Mas existem inúmeras condições que dificultam o segundo caso de ocorrer. E um aumento de impostos para os mais ricos não fará com que o primeiro caso aconteça mais frequentemente.
Essa crise, creio eu, só está intensificando problemas socio-economicos mundias que já existem há décadas, para não dizer séculos. O sistema em si criou essa situação. Como parte desse sistema, é importante que entendamos nosso papel e dentro dele o que podemos fazer para ajudar o sistema como um todo a andar para frente.
Não estou querendo pagar de santo e dizer que tenho as respostas, ou que tudo o que faço é para o bem maior. Meus amigos-leitores sabem que não é o caso. Mas essa visão de superioridade por posses me enoja. Graças a Colbert pude ver que não estou sozinho nesse sentimento, sobre o qual eu na verdade gostaria de estar redondamente enganado.