Archive for the 'star wars' tag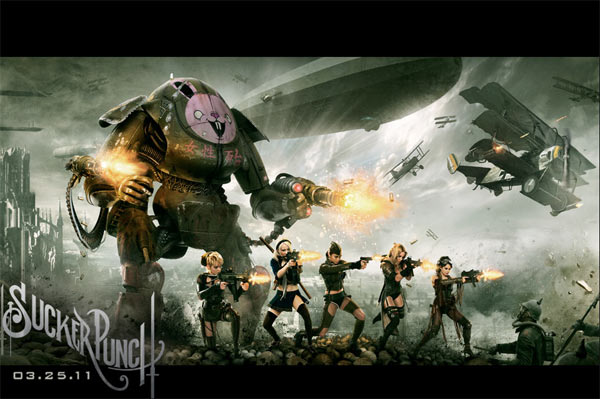 Zack Snyder está longe de ser um gênio, mas é no mínimo competente. Watchmen e Dawn of the Dead são ótimos filmes cada um em seu termo, e embora 300 seja bem fraco, ele ainda tem algum sentido. Sucker Punch é seu primeiro filme totalmente original, o que é um passo importante para qualquer diretor.
E esse passo mostra-se um tropeço dos feios.
Sucker Punch parece o fruto de um pré-adolescente. Aquele que está descobrindo que as meninas podem ser interessantes, e ao mesmo tempo brinca de comandos em ação escondido. O filme é uma desculpa esfarrapada para Snyder embolar tudo aquilo que ele acha divertido, e o resultado chega a ser patético.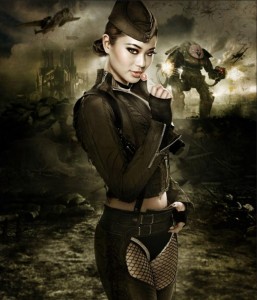 A trama trata de uma garota recém-internada em um manicômio. Que, graças a clichês, desde o começo percebemos ser um lugar terrível. A partir daí a história toda se desenrola na mente da protagonista, Babydoll; criando uma história paralela à realidade para conseguir lidar com a dor que sente e a vontade de escapar.
Histórias que se passam completamente na mente do protagonista raramente prestam. As exceções contamos nos dedos. E Sucker Punch não é exceção. Em alguns concursos literários esse tipo de premissa é inclusive proibida, pois geralmente é um golpe barato para uma reviravolta besta ou, como no caso de Sucker Punch, desculpa para misturar um sem número de elementos desconexos sem realmente ligar nenhum deles.
O propósito da ficção é nos apresentar um mundo diferente. Seja isso sutil como a história de duas pessoas, ou extremo como um universo repleto de alienígenas. E o desafio é tornar essas fantasias algo coeso e que nos prenda, por mais absurdo que possa parecer. Snyder usa a desculpa do "tudo está na cabeça dela" para se eximir dessa responsabilidade e simplesmente jogar na tela tudo que acha divertido. Imaginem o brainstorm:
Snyder: "Então a menina puxa uma espada e enfia no alienígena nazista. Em seguida, com a espada presa na cabeça dele, ela saca uma pistola e atira no dragão que aparece atrás dela. Antes que o fogo do outro dragão torre as mínimas roupas que ela usa na neve, surge uma outra gata pilotando um zepelim e a puxa pra cima com um raio trator."
Amigo do Snyder: "Nossa, que loucura! Pode ser legal. Mas difícil de engolir. Como é esse mundo louco?"
Snyder: "É tudo na cabeça da menina."
Amigo: "Hmmm. Certo, mas como esses elementos se ligam?"
Snyder: "Não precisa, pois é tudo imaginação."
Amigo: "Como assim?"
Snyder: "A história toda se passa na cabeça dela"
Amigo: "Eu entendi, mas qual é a história?"
Snyder: "Isso que eu acabei de te contar."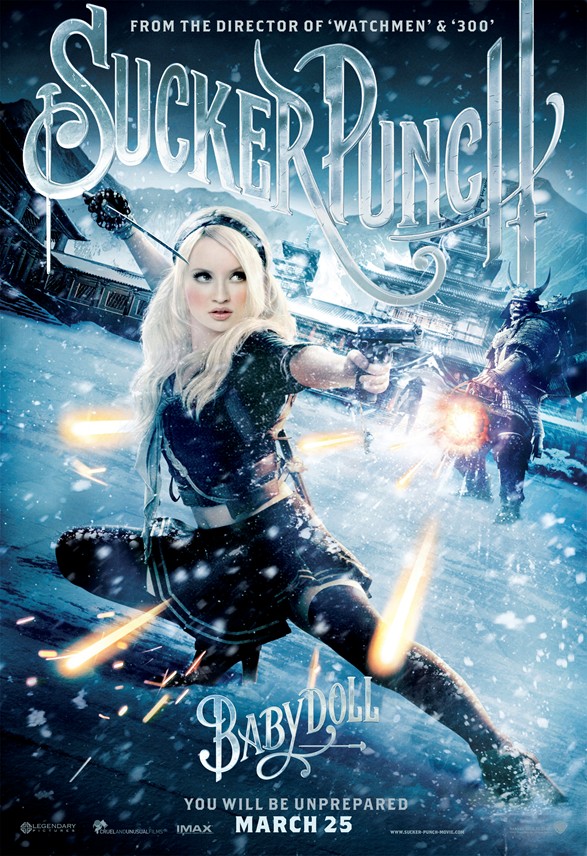 O filme só é minimamente interessante pois há gatas com roupas sensuais, boa música e um visual interessante. E o ritmo de video-game encontra videoclipe é descarado do começo ao fim. E como Snyder não é nada sutil, sua tentativa pífia de inserir alguma moral na "história" é risível.
Não é sequer possível perdoá-lo como ação boba e divertida, pois mesmo no caso de filmes assim, temos personagens interessantes e carismáticos. E não há nenhum aqui, só uma colagem de sotaques, curvas e figurinos. Pedaços ambulantes de carne colorida que não tínhamos a desgraça de conhecer desde Star Wars Episódio I.
Depois disso, Snyder precisa voltar a fazer adaptações. E é justamente o que vai acontecer, com Superman. Mas depois de Cluster Fuck, tenho medo. Sucker Punch is for Suckers.
Em breve parto para a pré-estréia de Star Trek. E pretendo verbalizar minhas opiniões a respeito do filme por aqui. Mas antes, um post pessoal fazendo uma retrospectiva dessa franquia pop na minha vida. Para os aversos ou não escolados aviso que esse texto, embora faça inúmeras referências a franquia, não é sobre ela – é sobre minha relação com ela. Agora, se você é averso tanto a mim quanto a Star Trek, parem de ler agora.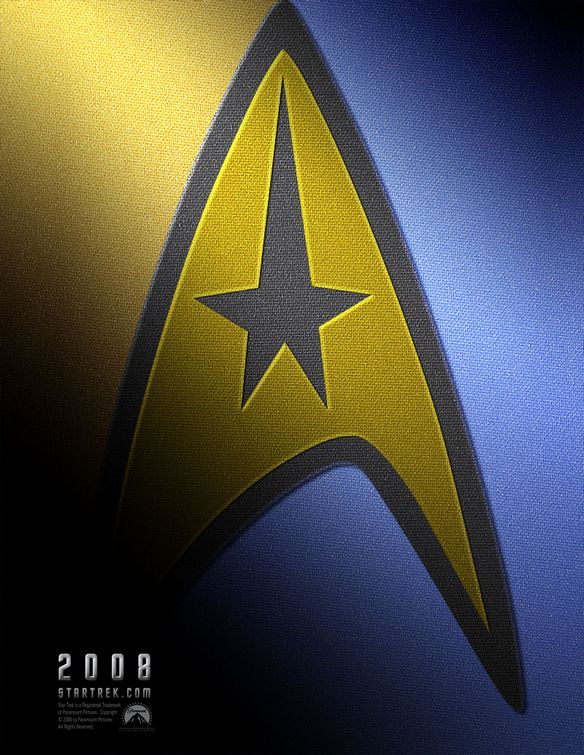 Aos 13 ou 14 anos, eu tinha uma forte tendencia nerd. Diferentes amigos me apresentaram três importantes pilares educativos para seguir esse iluminado caminho: Quadrinhos, RPG e Star Trek. Enquanto RPG havia deixado uma marca leve até então, rapidamente peguei o embalo em Star Trek e quadrinhos de super-herói, embora sinceramente não tenha certeza de qual ocorreu primeiro.
Mas seja qual for, a presença de Star Trek foi chave. Já havia visto alguns episódios da série clássica dos anos 60 nas tardes da Record, e achava divertido. E tinha vagas lembranças de meu pai assitindo A Ira de Khan. Mas foi aí que um grande amigo me emprestou os então 6 filmes para o cinema. Em duas tardes assisti tudo. E fui fisgado. O futuro limpo e aventuresco, a tecnologia, as pessoas de diferentes origens contribuindo de diferentes maneiras para o objetivo comum – tudo aquilo me fascinava, achava de uma imaginação incrível.
Poucos meses depois me mudei de cidade, e em um lugar desconhecido, lutando para fazer amigos, muitas das minhas tardes eram preenchidas por Kirk, Picard e seus respectivos amigos. E foi graças a eles, e minha coleção de naves de montar, que conheci vários outros amigos, com gostos semelhantes, que me puxaram ainda mais para o lado nerd da força.
Longas discussões sobre se a Enterprise conseguiria derrotar um Battlecruiser, noites em claro jogando jogos de tabuleiro e RPGs
. Mais quadrinhos, mais filmes e seriados de Star Trek e outras ficções científicas ou não. Bons tempos. Os mesmos amigos depois cresceram comigo, muitos deles mantenho contato até hoje e são grandes companheiros de vida. Todos nós tivemos a nerdice diluida na míriade de influências que tomou conta de nossas vidas desde então, mas o coração de cada um ainda guarda enorme espaço para essas paixões seminais.
O tempo passou e Star Trek foi tendo cada vez menos lugar na minha mente. Outras influências culturais, educativas e sociais foram permeando e empurrando Star Trek para o escanteio – sequer assisti os seriados de Voyager
ou Enterprise
por inteiro; e pensando bem, provavelmente nem vi tudo de A Nova Geração
. Meu gosto por tecnologia e ciência continuou. Trabalho com tecnologia e embora eu não seja cientista, o assunto me interessa muito, e tendo a usar um approach científico para a tomada de decisões. Sendo um designer, sempre fujo de colocações qualitativas como "gostei" ou "porque quero" em troca de argumentações lógicas. Independente do seu ramo, enxergo como uma maneira muito mais válida de enxergar seu trabalho.
Culturalmente continuei apreciando Fantasia e Ficção-Científica, mesmo que com uma frequência menor. Meu gosto por um drama bem escrito aumentou, e passei a buscar essas qualidades em todos os gêneros. O que me levou ao meu favorito atual: Battlestar Galactica
– uma série que ao meu ver pegou a tocha de reflexão abandonada por Star Trek há muito. Ter um contato menor com a pureza de Star Trek, creio que aumentou meu grau de cinismo com relação ao mundo; o que considero saudável. Sempre que retorno a Star Trek acabo por buscar os momentos em que a série trancende seus padrões filosóficos e dramáticos e mostra um brilho diferente (poderia listá-los, mas não o farei).
A mensagem mais difundida de Star Trek, com seu futuro utópico, de que existe esperança para a humanidade, já não faz efeito em mim – afinal eu vejo notícias. O que Star Trek ajudou a incutir em mim, e que considero valores importantes, foram a curiosidade e a tolerância. Dois pontos chaves para tentar entender o mundo e os indivíduos a sua volta. Mesmo que você não concorde e mesmo tente dissuadí-los de seus caminhos, você consegue compreender de onde esse caminho surgiu. Ao meu entender, sem esses dois sentimentos você não chega na visão utópica. Enquanto o tema de Star Wars é o crescimento pessoal, Star Trek fala do crescimento da raça humana.
Não é uma questão de dar as mãos e sermos felizes. Ser politicamente correto, além de não ter graça, só abafa as diferenças, não as agrega. É preciso entender que por trás da convivência existe um trabalho duro e muita paciência. A utopia não é onde todos são iguais, é onde entendemos que não somos todos iguais, e não devemos ser. Da maneira que minha vida se desenrolou, ter assistido Star Trek me colocou no caminho certo para conhecer as pessoas certas na hora certa. Pessoas que me abriram os olhos muito mais do que qualquer seriado.
Star Trek tem sim uma certa ingenuidade por achar que a unificação da humanidade é inevitável e a partir daí, inabalável. Por isso que minha encarnação preferida da franquia é Deep Space Nine
. Pois ela conseguiu balancear bem a vontade da utopia e as dificuldades que os indivíduos impõe para atingir este nobre objetivo.
Todos temos defeitos, e é preciso saber lidar com eles para o nosso bem e o bem maior. Assim como Deep Space Nine, o sexto filme para o cinema, A Terra Desconhecida, toca nesses assuntos. É o último filme reunindo toda a chamada tripulação Clássica, que decidi assistir novamente no último fim de semana como fechar o círculo antes do filme de JJ Abrams. Nele, vemos os personagens lutando para não se tornarem obsoletos – uma luta da própria franquia – senhores, e uma senhora, de idade tentando olhar além de seus preconceitos e enxergar o que há de comum entre eles e seus inimigos mortais de décadas. Não porque é o certo, mas porque é assim que se sobrevive. Teorizo que Kirk e seus amigos enfrentam seu maior desafio até então, pois a ameaça não se trata de uma nave ou entidade que pode ser dispensada com o apertar de alguns botões, mas sim a mudança, pura e simplesmente.
E a mudança não pode ser impedida, ela pode ser moldada, para o melhor ou para o pior. Assim como nos nossos tempos atuais de crise.
De longe não estou dizendo que para ter esses sentimentos de desbravamento e tolerância é necessário assistir Star Trek. Há muitas outras fontes, mais nobres e menos estapafúrdias. Mas para mim, esse universo veio no tempo certo. Aquela época em que absorvemos muita informação, seja ela qual for, que nos achamos invencíveis e donos da verdade. Ajudou tanto a entender que existe um vasto e desconhecido universo a minha volta, para o qual a humanidade não faz a menor diferença – me colocando num paradoxo: por um lado me deixou humilde, por outro metido a besta por achar que entendia mais que os outros (que trouxa).
Star Trek foi um acerto pra mim. E espero que JJ Abrams seja um acerto para Star Trek, empurrando a franquia um passo adiante, colocando-a como algo de vanguarda novamente – pois bem sabem os fãs abalisados que ela precisa. Provavelmente não me sentirei inspirado como já me senti antes, apesar de tolerante, ainda sou bastante cínico, sarcástico e descrente.
E assim seguimos, com muito mais a aprender com nossas derrotas e vitórias. Mesmo que o presente não nos permita ver a utopia, podemos continuar lutando por ela. Afinal, só assim vamos atingir a fronteira final; onde nenhum homem, ninguém, jamais esteve.
PS: O título é uma piada corrente entre Trekkers/Trekkies (mais uma diferenciação inútil) e é uma paráfrase do título deste livro.
NOTA: Comecei esse texto como uma reflexão sobre minha relação com Star Trek
. Mas ele acabou tomando outra forma, embora ainda bastante relacionada. O texto sobre Star Trek e eu virá em breve. Mas por enquanto fiquem com essa elocubração que venho mastigando a algum tempo, sobre como creio que o sentido da palavra nerd se perdeu nos dias de hoje.

Creio firmemente que nerds e geeks são conceitos completamente perdidos nos dias de hoje. Por questões práticas usarei apenas o termo nerd para significar ambos e dispensar o longo e estúpido debate de qual é a diferença. Hoje em dia não se passa um dia sem que alguém bata no peito declarando ser nerd, ou uma semana sem que algum veículo grande de mídia mencione o assunto de uma forma ou de outra. Basicamente, para ser nerd hoje basta gostar qualquer seriado que tenha algo de sobrenatural/tecnologico e passar muito tempo conversando com pessoas no computador. Convenhamos, todos que trabalha em um escritório passa a maior parte do tempo conversando com pessoas por um computador, a partir daí basta chegar em casa e ligar no Sony ou Warner. Pronto, temos um "nerd".
Não ao meu ver. Creio em outra definição, alinhada ao significado original de Otaku: Alguém extremamente dedicado, muitas vezes cegamente, a um punhado de atividades. Sejam elas envolvidas com seu trabalho, seu gosto em cultura popular ou hobby – de empilhadeiras a cantoras pop pré-fabricadas tipo Britney Spears
. Exemplos clássicos de figuras assim seriam Leonardo da Vinci
, Isaac Newton, Steve Wozniak e um punhado serial killers. E hoje em dia, com uma pessoa famosa por semana, são poucos aqueles que realmente se dedicam a algo.
O final dos anos 90 marcou um grande declinio na população nerd clássica. A proliferação da tecnologia e facilidade de acesso a informação fez com que o conceito abrisse as pernas e passasse a incluir toda a gama de nerdices que temos hoje. Ao ponto de que declarar-se nerd chega a ser cool. Bem, se é cool, não pode ser nerd. Ainda existem true nerds por aí, mas raramente ouvimos falar deles. E porquê? Eles não gostam de atenção. Nerds gostam de sua dedicação e dos universos que criam em volta delas, são aversos a interferências externas. Não gostam da mídia fazendo circo em volta deles.
Como parte desse novo formato do conceito de nerd, os frutos da cultura pop considerados extremamente nerds passaram a tomar uma nova faceta também. Como declarar-se nerd, elas também passaram a ser cool. Seriados de dedicação extrema e trama intrincada como Lost
, Star Wars
, Senhor dos Anéis
e Super-heróis; todos se tornaram mega super sucessos e verdadeiras manias sem fim. Jogos de RPG deixaram de significar um bando de adolescentes espinhudos reunidos em uma mesa na madrugada para ser um gênero de video-game altamente lucrativo. Antigas franquias de ficção-científica ganharam nova roupagem, como Speed Racer
, o já mencionado Star Wars, Terminator
, Battlestar Galactica
, Super Máquina, Mulher Biônica
e vários outros – independente do grau de sucesso original.
Claro que muitos dos exemplos que dei foram de fato bem sucedidos no passado, caso contrário não teriam durado tanto no imaginário popular. Mas não havia a opinião generalizada de que Obi-Wan Kenobi
, além de assunto nerd, era um cara super cool. Muitas pessoas admitiam que gostavam de "coisas de nerd" apenas em lugares fechados e de pouco acesso, jamais batendo no peito e gritando por aí. Os nerds se guardavam para si.
De maneira nenhuma eu acho que tudo tenha que parar e precisamos dar uma freada. Embora aquele cara gorducho de camisa-azul clara e protetor de bolso, que trabalha com mainframes em um porão e tem uma coleção de bonecos do Optimus Prime, deve ter tido um enfarto ao ver o filme dos Transformers
. Que venha mais e mais, mas com qualidade, por favor, não me façam assistir Elektra. Eu só enxergo que tudo isso, simplesmente deixou de ser nerd.
Me parece que estou me comportando como uma metalinguagem humana. Sendo um nerd a respeito do termo nerd. Mas isso está além do meu controle. Está na hora de aceitar que o termo se perdeu, e nada mais será como antes. O futuro já chegou. Como disse uma vez, a realidade atual é cyberpunk. Por isso, passarei a usar o termo Otaku, que apesar de distorcido no ocidente para significar o "nerd de anime", ainda não é tão difundido – pelo menos até eu bolar um nome melhor, e bem obscuro – coisa de nerd.
Só pra registrar minha idéia, estou reescrevendo a genial Avril Lavigne numa edição Star Wars:
He was a boy
She was a girl
Can I make it anymore obvious?
He was a sith.
And she did ballet.
What morea can I say?
He wanted her.
She'd never tell.
Secretely she wanted him as well.
And all of her friends
Stuck up their nose.
And they had a problem with his black clothes.
He was a vader boi she said I see your dark side boi.
He wasn't good enough for her.
She had a pretty face but her head was up in space.
She needed to come back down to coruscant.
Five years from now she sits at home feeding the twins she's all alone.
She turns on TV and guess who she sees.
Vader boi rocking up in an AT-AT.
She calls up her friends.
They already know
And they've all got tickets to see his show.
She tags along, stands in the crowd . Looks up at the man that she turned down.
He was a vader boi she said I see your dark side boi. He wasn't good enough for her.
Now he's a lord of the sith slammin on his light saber to show pretty face what he's worth.
Sorry girl but you missed out. Well tough luck that sith's mine now. We are more than just apprentices. This is how the story ends. Too
bad that you couldn't see.. see the sith that boi could be. There is more than meets the eye, I see the force that is inside.
He's just a boi, and I'm just a girl.
Can I make it anymore obvious?
We are in love.
Haven't you heard how we block eachother's sword?
I met the vader boi I see your dark side boi.
I'll be backstage after the show.
I'll be at the cruiser singing the song he wrote about a girl he use to know.
I met the vader boi I see your dark side boi.
I'll be backstage after the show.
I'll be at the cruiser singing the song he wrote about a girl he use to know.
Aceito palpites e propostas de clipe e gravação.