Archive for the 'sci-fi' tag
Battlestar Galactica acabou, mas nem tanto. Como as modelos gostosonas que povoavam o seriado, tudo que é bom tem que voltar. Portanto, depois de um download acabo de ver o renascimento da série na forma de Caprica.
Caprica é na verdade a mamãe de BSG. E pode ser uma boa oportunidade para os que sempre foram curiosos sobre Galactica mas têm medo de naves estelares experimentarem um pouco desse universo. O piloto de uma hora e meia acaba de sair nos EUA e vazou na internet há algumas semanas. A temporada de 13 episódios deve estrear ainda esse ano.
O tom realmente é outro, foram-se os corredores claustrofóbicos e os atores vestidos em trapos suados e uniformes pomposos. Entram homens elegantes de sobretudo, chapéu e luvas, andando por ai em carros e jogando "tênis do futuro". A cena mais bombástica em Caprica é de fato a explosão de uma bomba, que dá partida na trama. Trama que é de fato um drama familiar, com dois chefes de família em conflito tentando cada um a sua maneira lidar com a perda.
Ao contrário das diferentes encarnações de Star Trek ou CSI, que se contentam em habitar o mesmo universo contando histórias totalmente paralelas com raros momentos de ligação, Caprica tem dois pontos na trama que fortemente a conectam à BSG: Um dos motes da série é mostrar a origem dos Cylons, os robôs cromados impiedosos que os humanos enfrentam. O outro é a vida e obra de Joseph Adama, advogado lendário mencionado inúmeras vezes durante BSG por seu filho William Adama.
Ao ver o trailer e algumas cenas confesso que fiquei com receio da série ser adolescente demais. Tipo Caprica 9020. Fico aliviado em dizer que não, os pilares são mesmo Joe "Adams" e David Greystone e seu dramalhão temperado com tecnologia. Para os que não viram BSG, não há surpresas. Para os fãs, há muitas, especialmente em se tratando de tecnologias avançadas proeminentes e preconceitos mais arraigados.
Caprica me parece irá mostrar não apenas a ascenção dos Cylons, mas também a transição para uma era de certa rejeição tecnológica em favor de uma maior integração entre humanos. Em termos temáticos, a série pega bem mais pesado nas questões religiosas e mostra a ponta de um iceberg existencialista. O transhumanismo é um assunto central nesse episódio piloto.
Ao final, você já tem algumas respostas para fãs de BSG e diversas possibilidades para uma série. Os autores e produtores fizeram um bom trabalho inserindo novos elementos, que têm potencial para tornar Caprica uma série por mérito próprio e não apenas um sidekick de Galactica.
Considerando que mencionei Battlestar Galactica
neste blog diversas vezes, tenho a obrigação de falar sobre seu final. Diria até que estou atrasado. Se você nunca assistiu a série, peço que seja paciente e continue lendo, farei com que valha a pena. Se você já viu, tem boas chances de que foi por minha insistência, já que sou um grande evangelizador dessa série.
Eu amo essa parada
É difícil falar apenas do final e não dizer o quanto acho essa série incrível. Ron Moore, o produtor, salvou a ficção-científica pra mim (em termos pessoais). Resumindinho para os que ainda não viram: Em um lugar do espaço que não tem nada a ver com a nossa amada Terra, humanos vivem nas chamadas 12 colônias. Para facilitar a vida criaram robôs chamados Cylons, que a certo ponto se rebelam e vão embora. No dia em que voltam, de 12 planetas, 50 mil pessoas sobram em uma frota de naves em busca de um lugar para viver – lugar que muitos acreditam ser a Terra (apenas um mito). Recomendo também ler esse antigo post sobre a série.
Em uma época em que as referências culturais voltam no máximo à década de 70 é fácil apontar dedos e dizer que BSG está chupando idéias de Exterminador do Futuro
, Blade Runner
, Star Trek
(na qual Moore trabalhou por muitos anos) e Star Wars
(2001
, Metrópolis
, alguém?). E na verdade está.
A BSG atual é o remake de uma série do final dos anos 70 e começo dos 80 que tentou pegar carona no sucesso de Star Wars e Star Trek, mas que se mostrou mais um caso de boa idéia desperdicada – em uma semana a raça humana era quase dizimada e na outra todos estão felizes jogando frescobol em um planetinha qualquer. A BSG atual não esconde suas inspirações, que vão desde os já mencionados até Bob Dylan
, poesia,mitologia greco-romana
, cristianismo
, filosofia
, mormonismo
(que já estava fortemente presente na série original) a Queda da Bastilha
, o assassinato de Lee Oswald e muitas outras coisas que sequer me lembro. Galactica conseguiu juntar tudo isso em um pacote muito tentador, chamado de "ficção científica naturalista" em que exclue-se o papo técnico excessivo (Star Trek) ou mirabolâncias heróicas (Star Wars) e as substitui por tramas intrincadas que giram em torno dos personagens.
Em 5 anos (já que o Sci-Fi resolveu arrastar quatro temporadas o máximo possível) Ron Moore nos brindou com momentos memoráveis, intercalando ação fenomenal e visual bem planejado com momentos emotivos e intimistas guiados por excelentes interpretações – algo raro na ficção científica. Tricia Helfer, a gostosona Number 6, recebe a coroa de melhor modelo que virou atriz da história. Ela carregou o personagem mais misterioso de toda a série nas costas, criando momentos de tensão e riso ao mesmo tempo em que elaborava personalidades completamente díspares para outras cópias das personagens (sim, cylons tem muitas cópias). Edward James Olmos, Mary McDonnell e Dean Stockwell, atores da velha guarda, tornavam suas cenas emocionalmente carregadas e com um ritmo sensacional. O resto do elenco seguia essa liderança sem igual na televisão atual.
Apenas as séries Star Trek, Sete Palmos
e Galactica conseguiram arrancar lágrimas da minha pessoa, e BSG o fez em uma cena sem falas – digo isso sem um pingo de vergonha.
Como já disse várias vezes Galactica tomou o manto de Star Trek no quesito alegorias. Terrorismo, direitos humanos, justiça, religião, preconceito, aborto, estupro, tolerância, genocídio e vários outras questões foram levantadas ao longo da série. E o melhor de tudo, ela não tenta trazer respostas, mas sim nos lembrar que existem perguntas. Nos faz olhar a nossa volta e refletir, as respostas não devem ser encontradas em uma série de TV, e sim na vida real.
Mas agora sobre o final propriamente dito.
Confesso que inicialmente não gostei dos flashbacks pré-ataque. Especialmente porque eles não estavam fazendo o menor sentido. Mas depois compreendi que eles eram importantes para fechar os ciclos dos personagens, embasar a trajetória deles até o derradeiro momento da série. Representam o nascimento da personagem que conhecemos durante esses quatro anos e da qual nos despedimos agora.
Uma série como Battlestar, cheia de mistérios e questões que muitas vezes trancendem o que estamos vendo na tela, não é fácil de colocar um ponto final. Mas ele veio na hora certa. Os balanços no barco durante a quarta temporada claramente mostraram que a fórmula não funcionaria por muito mais tempo. E terminou antes que desandasse completamente.
De fato não há como agradar todos quando o assunto é mistério. Sempre haverá aquele que dirá "poxa, mas eu queria que o fulano fosse o culpado" ou, para combinar mais com o tema "como assim o beltrano é cylon?". Dito isso, achei ótimo que haja pontas soltas. Os flashbacks acabam servindo para reforçar a idéia de que o episódio será guiado pelos personagens. Nenhuma resposta mágica surgirá dos céus, você saberá tanto quanto essas pessoas diante de você, e nós aprendemos nesses quatro anos que mesmo as mais misteriosas são tão falhas quanto nós. Uma decisão geralmente tomada por séries dramáticas.
Além disso o episódio consegue resumir quase tudo que Galactica é: Uma busca por respostas pessoais e universais no meio de um tiroteio intergalactico impiedoso. As cenas de ação são obviamente de uma proporção jamais vista e ver a nave quase se esfacelando é ao mesmo tempo empolgante e triste, eletrizante e poético. Testemunhar centuriões de diferentes gerações se estapeando e personagens executando vinganças que consideramos justas beirou o êxtase. Como toda obra equilibrada, percebe-se que não há vitória sem sacrifício, mas que ele vale a pena.
Um tema central em Galactica é um dos temas centrais da vida: De onde viemos? Para onde vamos? Em BSG isso se manifesta na idéia de que vivemos em um constante ciclo, e o grande desafio é desvencilhar-se dele. Durante a série existe o antagonismo de duas visões religiosas distintas (mais o ateísmo). A mensagem no episódio final é de que, independente de acreditarmos em uma força toda-poderosa, somos nós que temos que tomar a atitude para quebrar o ciclo. Não podemos puxar a cortina para ver se há alguém atrás puxando controles, apenas caminhar pela estrada de tijolos amarelos
e escolhermos nosso próprio caminho – e viver com nossas escolhas.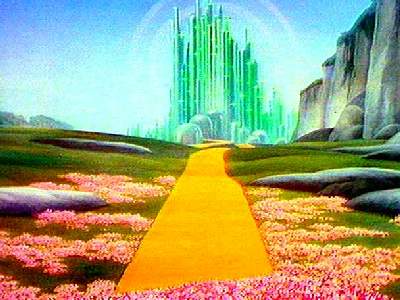 Só pra registrar minha idéia, estou reescrevendo a genial Avril Lavigne numa edição Star Wars:
He was a boy
She was a girl
Can I make it anymore obvious?
He was a sith.
And she did ballet.
What morea can I say?
He wanted her.
She'd never tell.
Secretely she wanted him as well.
And all of her friends
Stuck up their nose.
And they had a problem with his black clothes.
He was a vader boi she said I see your dark side boi.
He wasn't good enough for her.
She had a pretty face but her head was up in space.
She needed to come back down to coruscant.
Five years from now she sits at home feeding the twins she's all alone.
She turns on TV and guess who she sees.
Vader boi rocking up in an AT-AT.
She calls up her friends.
They already know
And they've all got tickets to see his show.
She tags along, stands in the crowd . Looks up at the man that she turned down.
He was a vader boi she said I see your dark side boi. He wasn't good enough for her.
Now he's a lord of the sith slammin on his light saber to show pretty face what he's worth.
Sorry girl but you missed out. Well tough luck that sith's mine now. We are more than just apprentices. This is how the story ends. Too
bad that you couldn't see.. see the sith that boi could be. There is more than meets the eye, I see the force that is inside.
He's just a boi, and I'm just a girl.
Can I make it anymore obvious?
We are in love.
Haven't you heard how we block eachother's sword?
I met the vader boi I see your dark side boi.
I'll be backstage after the show.
I'll be at the cruiser singing the song he wrote about a girl he use to know.
I met the vader boi I see your dark side boi.
I'll be backstage after the show.
I'll be at the cruiser singing the song he wrote about a girl he use to know.
Aceito palpites e propostas de clipe e gravação.
Não seria meu blog se não houvesse algo de BSG logo no começo do ano. Tem um outro preview com entrevistas no youtube mas não vou colocá-lo aqui pois contem spoilers descomunais. Também há outras versões desse mesmo teaser com personagens e frases diferentes.
Mais uma vez digo: quem não vê está perdendo! Só não acredite no lançamento em março no final do vídeo, pois será em abril.

Não há mais romance na guerra
Tive um fim de ano militarístico. Quem me conhece sabe que me interesso por assuntos relacionados à guerras e conflitos em geral, não que eu entenda muito do assunto, e de longe creio que Guerras são a solução para qualquer questão. Mas negar que algumas guerras foram necessárias, e acreditar inocentemente que elas não ajudaram a nos moldar como uma sociedade, isso não faço.
Tendo dito isso, já era um fã de longa data do filme Starship Troopers, sem nunca ter lido o livro. E agora que o li, me tornei um fã de ambos. Para quem não sabe, Starship Troopers é um clássico da ficção científica com uma fortíssima veia militar, e é basicamente um veículo para as idéias políticas e filosóficas de seu autor: Robert A. Heinlein (de Um Estranho Numa Terra Estranha).
A idéia central do universo de STPs é que civis não são cidadãos. Para se tornar um cidadão pleno, com direito à voto e concorrer na política é preciso alistar-se nas forças militares, cumprir um termo básico de serviço e se aposentar (com honras, claro). Um fato importante na organização militar da Federação é que todos lutam. Não há serviços confortáveis em escritório, e para seguir carreira de oficial é preciso estudar muito e lutar ainda mais. Funções burocráticas, de instrução, recrutamento e manutenção são realizadas no tempo "livre", por civis contratados ou soldados incapacitados (a maioria mutilados) que se negam a sair da corporação mesmo com a óbvia dispensa médica.
A teoria por trás dessa aristocracia meritocrática voluntária é que alguém que se alista nas Forças Armadas está disposto a colocar seus interesses pessoais, ou sua própria vida, em segundo plano em relação ao bem comum. Voluntários militares possuíriam uma abnegação natural inexistente naqueles que não têm coragem de lutar. E por conseguinte também seria uma maneira de acabar todas as revoluções. Já que a revolução é resultado de insatisfação com um instinto de lutar, ela jamais aconteceria, pois todos aqueles que têm o instinto de lutar já estão na classe que detém o poder e portanto as ferramentas de mudança sem o uso da violência.
Mas não se engane, em STPs existe plena liberdade de expressão e de ir e vir. Qualquer um pode reclamar a vontade, mas não são todos que podem fazer algo a respeito. Existem outras questões levantadas por Heinlein no livro, como pena capital e como criar seus filhos, mas isso seria uma outra discussão.
Honestamente, não posso dizer que discordo. Já declarei que ao menos no papel, concordo com qualquer forma de governo: Anarquismo, Totalitarismo, Comunismo, Democracia e provavelmente outros que nem conheço. Mas isso, no papel, pois na vida real todas as formas de governo são falhas, em especial uma baseada em dar poder apenas àqueles que detém a força.
E é aí que entra o filme de Starship Troopers. Dirigido pelo mestre Paul Verhoeven (de RoboCop e Vingador do Futuro) ele é em essência uma paródia de tudo aquilo que o livro representa. E o faz com acidez e bom-humor excepcionais.
Vários elementos do livro foram mudados, o que a maioria dos fãs reclamam é a falta da Powered Armor, um ítem importante na história, ignorado pelo filme; mas ela é apenas um elemento high-tech em uma história que lida com questões muito mais profundas, e para a mensagem do filme se tornar clara ela não é necessária, talvez até distraísse do ponto (que tão poucos conseguiram capturar). Embora sua presença no livro seja um marco na história da Ficção Científica, no filme ela seria apenas um gadget numa história sobre conflitos, e não gadgets. No final o filme consegue apontar dedo e dar risada de toda a exarcebação militar presente atualmente nos EUA.
O que conecta-me a outro filme que vi recentemente, Why we Fight, documentário justamente sobre a industria de armas e sua influência em escalar o tamanho e quantidade de conflitos militares no mundo. Basicamente denunciando as indústrias que no "futuro" irão fabricar as Powered Armors. Industrias essas que por tabela enchem os bolsos de contrabandistas de armas, como no outro filme recente, Senhor das Armas.
Com Nicolas Cage e Jared Leto, dirigido por Andrew Niccol (do maravilhoso Gattaca); o filme consegue levar as questões de War on War ao seu extremo dramático, com uma acidez semelhante á de Starship Troopers, mas com um cinisismo ainda maior, já que o narrador é o vilão/herói da história.
E a maneira como a presença militar atua hoje em dia, é basicamente uma máquina de jogar tempo e dinheiro (além de vidas) no lixo, como é possível ver em Soldado Anônimo (de Sam Mendes, que nos trouxe Beleza Americana). Um conflito envolvendo 500.000 tropas em que passa-se mais tempo esquivando-se do tédio do que combatendo o inimigo.
E é exatamente isso que a máquina militar se transformou hoje. Um enorme desfile de gastar recursos que podiam ser melhor empregados simplesmente para defender interesses econômicos atravéz de Intimidação. Onde cada lado fica mostrando o tamanho de seu pinto até que o outro corra de medo de ter seu cu arrombado. Não existe mais defesa de território, liberdade ou ideologias. Os pobres soldados são tão enganados quanto os civis, e não detém poder algum. Robert A. Heinlein estava errado, Dwight D. Eisenhower estava certo.
Agora vou jogar America's Army.