Archive for the 'mafra' tag
É com grande prazer que aviso que o livro Muito Além dos Quadrinhos acaba de sair do prelo. Em tempo para o lançamento no próximo sábado, dia 26.
A lista completa dos artigos:
Margarida no Brasil: retrato de uma mulher pós-moderna, de Agda Dias Baeta;
A história em quadrinhos e a imagem como informação: a coexistência da ficção e da realidade, de Alexandre Barbosa;
Heróis no Brazil: uma (des)caracterização do espaço geográfico brasileiro, de Angela Rama; 
Um encontro de grafismos nos Pampas: breve histórico das histórias em quadrinhos na Argentina, de Eloar Guazzelli; 
Batman de Beethoven: um olhar sobre as adaptações televisivas do Homem-Morcego, de Fernando de Oliveira Mafra; 
O caipira de todos nós: a construção do sentido de um tipo brasileiro nos quadrinhos, de Gêisa Fernandes D´Oliveira; 
O uso da gíria nas histórias em quadrinhos, de Paulo Ramos; 
Influências religiosas e sobrenaturais nos quadrinhos nacionais de terror, de Túlio Vilela; 
Quadrinhos e educação popular no Brasil: considerações à luz de algumas produções nacionais, de Waldomiro Vergueiro.
Veja nota no Omelete e no UniversoHQ
Compareçam:
Sábado, 26 de Setembro – a partir das 19:30
Livraria HQ Mix
Praça Roosevelt, 142, centro, São Paulo SP [mapa]
Fazemos um break da nossa programação reclamona normal para um anúncio especial
Muito Além dos Quadrinhos é o título do livro do qual participo com o artigo Batman
de Beethoven. Isso mesmo, mashup de Batman e música erudita – na verdade uma tentativa de fazer um título intrigante e poético.
Pra quem nunca me ouviu falar dessa história que levou anos para ser concluída, trata-se de um artigo sobre as adaptações para a televisão do homem-morcego. Faz tanto tempo que escrevi que não me lembro de muitos detalhes, mas gosto de pensar que ele serve para discutir adaptações em geral.
Outros pesquisadores de quadrinhos muito mais graduados que eu também participam com ótimos artigos discutindo vários temas relacionados a quadrinhos.
Teremos lançamento em setembro, ainda há tempo. Irei refrescar a memória de todos, mas estou postando agora apenas como marco. Se já quiserem adicionar em suas agendas, por favor:
Sábado, 19 de Setembro – a partir das 19:30
Livraria HQ Mix
Praça Roosevelt, 142, centro, São Paulo SP
update:
Sábado, 26 de Setembro – a partir das 19:30
Livraria HQ Mix
Praça Roosevelt, 142, centro, São Paulo SP
And Now for Something Completely Different
Em breve parto para a pré-estréia de Star Trek. E pretendo verbalizar minhas opiniões a respeito do filme por aqui. Mas antes, um post pessoal fazendo uma retrospectiva dessa franquia pop na minha vida. Para os aversos ou não escolados aviso que esse texto, embora faça inúmeras referências a franquia, não é sobre ela – é sobre minha relação com ela. Agora, se você é averso tanto a mim quanto a Star Trek, parem de ler agora.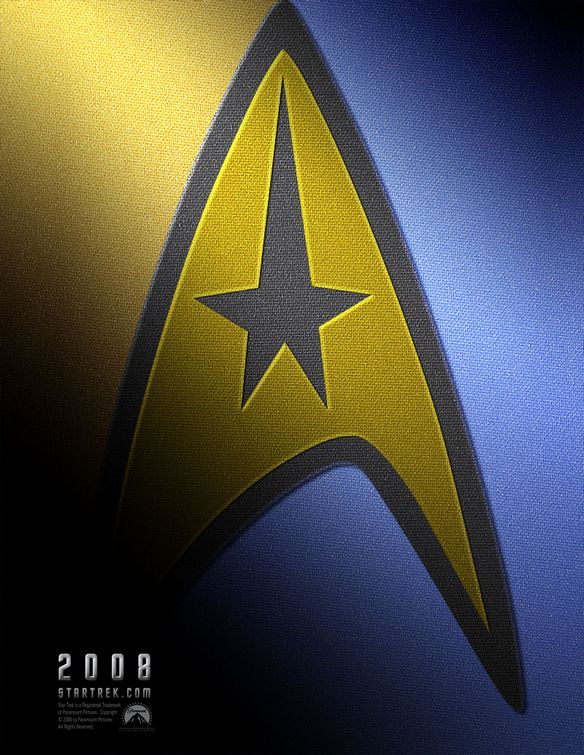 Aos 13 ou 14 anos, eu tinha uma forte tendencia nerd. Diferentes amigos me apresentaram três importantes pilares educativos para seguir esse iluminado caminho: Quadrinhos, RPG e Star Trek. Enquanto RPG havia deixado uma marca leve até então, rapidamente peguei o embalo em Star Trek e quadrinhos de super-herói, embora sinceramente não tenha certeza de qual ocorreu primeiro.
Mas seja qual for, a presença de Star Trek foi chave. Já havia visto alguns episódios da série clássica dos anos 60 nas tardes da Record, e achava divertido. E tinha vagas lembranças de meu pai assitindo A Ira de Khan. Mas foi aí que um grande amigo me emprestou os então 6 filmes para o cinema. Em duas tardes assisti tudo. E fui fisgado. O futuro limpo e aventuresco, a tecnologia, as pessoas de diferentes origens contribuindo de diferentes maneiras para o objetivo comum – tudo aquilo me fascinava, achava de uma imaginação incrível.
Poucos meses depois me mudei de cidade, e em um lugar desconhecido, lutando para fazer amigos, muitas das minhas tardes eram preenchidas por Kirk, Picard e seus respectivos amigos. E foi graças a eles, e minha coleção de naves de montar, que conheci vários outros amigos, com gostos semelhantes, que me puxaram ainda mais para o lado nerd da força.
Longas discussões sobre se a Enterprise conseguiria derrotar um Battlecruiser, noites em claro jogando jogos de tabuleiro e RPGs
. Mais quadrinhos, mais filmes e seriados de Star Trek e outras ficções científicas ou não. Bons tempos. Os mesmos amigos depois cresceram comigo, muitos deles mantenho contato até hoje e são grandes companheiros de vida. Todos nós tivemos a nerdice diluida na míriade de influências que tomou conta de nossas vidas desde então, mas o coração de cada um ainda guarda enorme espaço para essas paixões seminais.
O tempo passou e Star Trek foi tendo cada vez menos lugar na minha mente. Outras influências culturais, educativas e sociais foram permeando e empurrando Star Trek para o escanteio – sequer assisti os seriados de Voyager
ou Enterprise
por inteiro; e pensando bem, provavelmente nem vi tudo de A Nova Geração
. Meu gosto por tecnologia e ciência continuou. Trabalho com tecnologia e embora eu não seja cientista, o assunto me interessa muito, e tendo a usar um approach científico para a tomada de decisões. Sendo um designer, sempre fujo de colocações qualitativas como "gostei" ou "porque quero" em troca de argumentações lógicas. Independente do seu ramo, enxergo como uma maneira muito mais válida de enxergar seu trabalho.
Culturalmente continuei apreciando Fantasia e Ficção-Científica, mesmo que com uma frequência menor. Meu gosto por um drama bem escrito aumentou, e passei a buscar essas qualidades em todos os gêneros. O que me levou ao meu favorito atual: Battlestar Galactica
– uma série que ao meu ver pegou a tocha de reflexão abandonada por Star Trek há muito. Ter um contato menor com a pureza de Star Trek, creio que aumentou meu grau de cinismo com relação ao mundo; o que considero saudável. Sempre que retorno a Star Trek acabo por buscar os momentos em que a série trancende seus padrões filosóficos e dramáticos e mostra um brilho diferente (poderia listá-los, mas não o farei).
A mensagem mais difundida de Star Trek, com seu futuro utópico, de que existe esperança para a humanidade, já não faz efeito em mim – afinal eu vejo notícias. O que Star Trek ajudou a incutir em mim, e que considero valores importantes, foram a curiosidade e a tolerância. Dois pontos chaves para tentar entender o mundo e os indivíduos a sua volta. Mesmo que você não concorde e mesmo tente dissuadí-los de seus caminhos, você consegue compreender de onde esse caminho surgiu. Ao meu entender, sem esses dois sentimentos você não chega na visão utópica. Enquanto o tema de Star Wars é o crescimento pessoal, Star Trek fala do crescimento da raça humana.
Não é uma questão de dar as mãos e sermos felizes. Ser politicamente correto, além de não ter graça, só abafa as diferenças, não as agrega. É preciso entender que por trás da convivência existe um trabalho duro e muita paciência. A utopia não é onde todos são iguais, é onde entendemos que não somos todos iguais, e não devemos ser. Da maneira que minha vida se desenrolou, ter assistido Star Trek me colocou no caminho certo para conhecer as pessoas certas na hora certa. Pessoas que me abriram os olhos muito mais do que qualquer seriado.
Star Trek tem sim uma certa ingenuidade por achar que a unificação da humanidade é inevitável e a partir daí, inabalável. Por isso que minha encarnação preferida da franquia é Deep Space Nine
. Pois ela conseguiu balancear bem a vontade da utopia e as dificuldades que os indivíduos impõe para atingir este nobre objetivo.
Todos temos defeitos, e é preciso saber lidar com eles para o nosso bem e o bem maior. Assim como Deep Space Nine, o sexto filme para o cinema, A Terra Desconhecida, toca nesses assuntos. É o último filme reunindo toda a chamada tripulação Clássica, que decidi assistir novamente no último fim de semana como fechar o círculo antes do filme de JJ Abrams. Nele, vemos os personagens lutando para não se tornarem obsoletos – uma luta da própria franquia – senhores, e uma senhora, de idade tentando olhar além de seus preconceitos e enxergar o que há de comum entre eles e seus inimigos mortais de décadas. Não porque é o certo, mas porque é assim que se sobrevive. Teorizo que Kirk e seus amigos enfrentam seu maior desafio até então, pois a ameaça não se trata de uma nave ou entidade que pode ser dispensada com o apertar de alguns botões, mas sim a mudança, pura e simplesmente.
E a mudança não pode ser impedida, ela pode ser moldada, para o melhor ou para o pior. Assim como nos nossos tempos atuais de crise.
De longe não estou dizendo que para ter esses sentimentos de desbravamento e tolerância é necessário assistir Star Trek. Há muitas outras fontes, mais nobres e menos estapafúrdias. Mas para mim, esse universo veio no tempo certo. Aquela época em que absorvemos muita informação, seja ela qual for, que nos achamos invencíveis e donos da verdade. Ajudou tanto a entender que existe um vasto e desconhecido universo a minha volta, para o qual a humanidade não faz a menor diferença – me colocando num paradoxo: por um lado me deixou humilde, por outro metido a besta por achar que entendia mais que os outros (que trouxa).
Star Trek foi um acerto pra mim. E espero que JJ Abrams seja um acerto para Star Trek, empurrando a franquia um passo adiante, colocando-a como algo de vanguarda novamente – pois bem sabem os fãs abalisados que ela precisa. Provavelmente não me sentirei inspirado como já me senti antes, apesar de tolerante, ainda sou bastante cínico, sarcástico e descrente.
E assim seguimos, com muito mais a aprender com nossas derrotas e vitórias. Mesmo que o presente não nos permita ver a utopia, podemos continuar lutando por ela. Afinal, só assim vamos atingir a fronteira final; onde nenhum homem, ninguém, jamais esteve.
PS: O título é uma piada corrente entre Trekkers/Trekkies (mais uma diferenciação inútil) e é uma paráfrase do título deste livro.
Finalmente está no ar a nova versão do fmafra.com. E agora bem mais útil. Além de fornecer um link pro meu (desatualizado) portfolio, ele agrega todos os meus feeds em um só lugar.
Com a ajuda de Marco Gomes e Samuel Prado montei o que batizei de mafrastream. Um esquema com yahoo!pipes, php e json que funciona exatamente como um lifestream. Tudo em um só lugar e em um só feed. Então se você me acha um cara legal, e sei que acha, pode acompanhar minhas andanças na web com apenas um click ou uma assinatura.
Depois um post detalhando o funcionamento. Aguardo sugestões de ajustes e relatórios de bugs.
Eu era um feliz cliente itaú até ontem. Em todo o tempo que tenho conta lá, devo ter entrado em uma agência cerca de 4 vezes, sendo que uma delas foi para abrir a conta. Todo o tipo de transação possível eu realizo através da internet ou do telefone, e não tive problemas até ontem.
Semana passada recebi pelo correio o tal iToken, alardeado como a oitava maravilha do mundo da segurança. Um gerador infinito de códigos que cabe na palma de sua mão.
O problema começa na palma da mão. Ao invéz de ser um cartão que fica dentro da sua carteira, agenda ou case de PDA, é um chaveiro. Não o coloco com minhas chaves de casa pois fica muito gordo no bolso e chaves de casa são perdíveis. Não o coloco com a chave do carro pois um sujeito armado pode levá-la junto com meu iToken. Resta colocar dentro da minha mochila, mas faz barulho enquanto caminho, como se eu fosse uma adolescente fã de Hello Kitty cheia de chaveirinhos. Você pode dizer "ah, mas alguém também pode roubar sua carteira com o cartão de segurança dentro" – verdade, mas ao ter minha carteira roubada eu vou ligar em desespero para o banco de QUALQUER jeito, então não há esforço extra e a tristeza vai ser generalizada de qualquer maneira.
Pois bem. Ontem fui realizar um afobado pagamento, que acarretaria multa caso não fosse pago ontem. E qual a minha surpresa ao pressionar o miraculoso botão gerador de senhas infinitas e descobrir que o treco não ligava. Sim, após uma semana de recebimento e dois usos o iToken morreu. E fiquei sem pagar minha conta pois já era tarde demais.
Hoje então liguei para me informar sobre como adquirir um substituto. Fui instruído a ir a qualquer agência pois teriam reservas para essas eventualidades. A atendente da agência estava tão frustrada quanto eu, da esbórnia de 5 iTokens que ele recebera, 2 estavam quebrados; e os outros 3 já tinham achado dono. Paguei a conta no caixa e tornei a ligar no Itaú.
Exigi que um novo me fosse enviado pelo correio, pois tenho mais o que fazer do que ficar indo em agência ver se tem iTokens – mesmo que seja postar no blog ou assistir a um pornô. Então a mocinha me disse que o procedimento do banco é que seja feita uma solicitação em minha agência (e não qualquer uma) para então um dia eu pegar um novo. Bem, esse não é o meu procedimento.
Eu não solicitei esse que chegou em minha casa e ele chegou. Que raio de solicitação é essa? Teoricamente o iToken seria para aumentar minha comodidade e segurança e até agora só tem sido um inconveniente. Não só terei que me deslocar à minha agência (que de praxe não é perto nem de minha casa nem de meu trabalho) como ainda terei que esperar dias até a chegada do novo. E até lá? Vou ter que ficar indo em caixa pra realizar qualquer operação. Maravilha.
UPDATE: Estou com um iToken novo. Mas me custou quase uma hora de vida e um real de estacionamento. Haja saco.