Archive for the 'geek' tag
Para não dizer que não falei das flores, vou registrar aqui que semana passada estive na CampusParty 2010.
Em parte pelo Overmundo e em parte pela boo-box. Sigam os links para os diferentes pontos de vista desta humilde personalidade múltipla.
Confira também o CampusBabes, projeto do qual participei por lá. E veja minhas fotos no Flickr.
Já que hoje o twitter não para de falar de "dia do orgulho nerd", que nada mais é que uma apropriação canhestra do Towel Day adaptada para fãs de Matrix
, vou entrar no bonde e falar de Ficção Científica. Na verdade, continuar falando, como os arquivos do blog podem mostrar. Quem tem mais de 26 anos e se diz nerd tem que lembrar de V, aquela série de TV sobre os Visitantes com "V" maiúsculo.
Na onda dos remakes, reboots, re-imaginações e ressacas de seriados e filmes antigos, V acaba de ser agraciado com um trailer – estrelando a gatinha brasileira do Firefly e o carinha do Party of Five que sonhava em ser o Tom Cruise do novo milênio:
Para os que não lembram ou não conheceram, V foram duas mini-séries e uma série de uma temporada dos anos 80. Com Michael Ironside e o cara que faz o Freddy, V contava a opressão e distopia trazida pelos Visitantes à Terra, numa óbvia alegora do nazismo. Pelo trailer, a pegada do remake parece ser a de manter o aspecto nazista, embora mais sutil, e injetar elementos religiosos, seguindo a onda de Battlestar Galactica
.
Para ser sincero, eu era muito pequeno quando assistia ao seriado no SBT, em uma televisão pretro e branca de 4 polegadas, o que me impedia de ver o vermelho dos uniformes.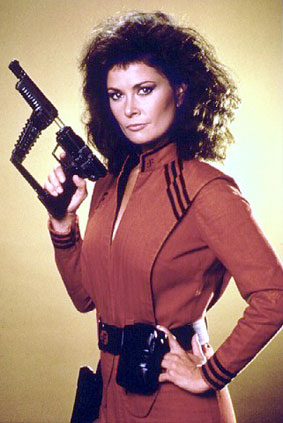 Mas era bastante impressionado pelo fato dos alienígenas serem na verdade lagartos gigantes com máscaras que comiam besouros e ratos – fato que algumas pessoas levaram a sério.
Sobre o trailer, o conceito tem potencial embora os atores não me empolguem e os efeitos pareçam pobres. Mas se parar para pensar, o original não estabeleceu padrões muito altos também:
NOTA: Comecei esse texto como uma reflexão sobre minha relação com Star Trek
. Mas ele acabou tomando outra forma, embora ainda bastante relacionada. O texto sobre Star Trek e eu virá em breve. Mas por enquanto fiquem com essa elocubração que venho mastigando a algum tempo, sobre como creio que o sentido da palavra nerd se perdeu nos dias de hoje.

Creio firmemente que nerds e geeks são conceitos completamente perdidos nos dias de hoje. Por questões práticas usarei apenas o termo nerd para significar ambos e dispensar o longo e estúpido debate de qual é a diferença. Hoje em dia não se passa um dia sem que alguém bata no peito declarando ser nerd, ou uma semana sem que algum veículo grande de mídia mencione o assunto de uma forma ou de outra. Basicamente, para ser nerd hoje basta gostar qualquer seriado que tenha algo de sobrenatural/tecnologico e passar muito tempo conversando com pessoas no computador. Convenhamos, todos que trabalha em um escritório passa a maior parte do tempo conversando com pessoas por um computador, a partir daí basta chegar em casa e ligar no Sony ou Warner. Pronto, temos um "nerd".
Não ao meu ver. Creio em outra definição, alinhada ao significado original de Otaku: Alguém extremamente dedicado, muitas vezes cegamente, a um punhado de atividades. Sejam elas envolvidas com seu trabalho, seu gosto em cultura popular ou hobby – de empilhadeiras a cantoras pop pré-fabricadas tipo Britney Spears
. Exemplos clássicos de figuras assim seriam Leonardo da Vinci
, Isaac Newton, Steve Wozniak e um punhado serial killers. E hoje em dia, com uma pessoa famosa por semana, são poucos aqueles que realmente se dedicam a algo.
O final dos anos 90 marcou um grande declinio na população nerd clássica. A proliferação da tecnologia e facilidade de acesso a informação fez com que o conceito abrisse as pernas e passasse a incluir toda a gama de nerdices que temos hoje. Ao ponto de que declarar-se nerd chega a ser cool. Bem, se é cool, não pode ser nerd. Ainda existem true nerds por aí, mas raramente ouvimos falar deles. E porquê? Eles não gostam de atenção. Nerds gostam de sua dedicação e dos universos que criam em volta delas, são aversos a interferências externas. Não gostam da mídia fazendo circo em volta deles.
Como parte desse novo formato do conceito de nerd, os frutos da cultura pop considerados extremamente nerds passaram a tomar uma nova faceta também. Como declarar-se nerd, elas também passaram a ser cool. Seriados de dedicação extrema e trama intrincada como Lost
, Star Wars
, Senhor dos Anéis
e Super-heróis; todos se tornaram mega super sucessos e verdadeiras manias sem fim. Jogos de RPG deixaram de significar um bando de adolescentes espinhudos reunidos em uma mesa na madrugada para ser um gênero de video-game altamente lucrativo. Antigas franquias de ficção-científica ganharam nova roupagem, como Speed Racer
, o já mencionado Star Wars, Terminator
, Battlestar Galactica
, Super Máquina, Mulher Biônica
e vários outros – independente do grau de sucesso original.
Claro que muitos dos exemplos que dei foram de fato bem sucedidos no passado, caso contrário não teriam durado tanto no imaginário popular. Mas não havia a opinião generalizada de que Obi-Wan Kenobi
, além de assunto nerd, era um cara super cool. Muitas pessoas admitiam que gostavam de "coisas de nerd" apenas em lugares fechados e de pouco acesso, jamais batendo no peito e gritando por aí. Os nerds se guardavam para si.
De maneira nenhuma eu acho que tudo tenha que parar e precisamos dar uma freada. Embora aquele cara gorducho de camisa-azul clara e protetor de bolso, que trabalha com mainframes em um porão e tem uma coleção de bonecos do Optimus Prime, deve ter tido um enfarto ao ver o filme dos Transformers
. Que venha mais e mais, mas com qualidade, por favor, não me façam assistir Elektra. Eu só enxergo que tudo isso, simplesmente deixou de ser nerd.
Me parece que estou me comportando como uma metalinguagem humana. Sendo um nerd a respeito do termo nerd. Mas isso está além do meu controle. Está na hora de aceitar que o termo se perdeu, e nada mais será como antes. O futuro já chegou. Como disse uma vez, a realidade atual é cyberpunk. Por isso, passarei a usar o termo Otaku, que apesar de distorcido no ocidente para significar o "nerd de anime", ainda não é tão difundido – pelo menos até eu bolar um nome melhor, e bem obscuro – coisa de nerd.
Só pra registrar minha idéia, estou reescrevendo a genial Avril Lavigne numa edição Star Wars:
He was a boy
She was a girl
Can I make it anymore obvious?
He was a sith.
And she did ballet.
What morea can I say?
He wanted her.
She'd never tell.
Secretely she wanted him as well.
And all of her friends
Stuck up their nose.
And they had a problem with his black clothes.
He was a vader boi she said I see your dark side boi.
He wasn't good enough for her.
She had a pretty face but her head was up in space.
She needed to come back down to coruscant.
Five years from now she sits at home feeding the twins she's all alone.
She turns on TV and guess who she sees.
Vader boi rocking up in an AT-AT.
She calls up her friends.
They already know
And they've all got tickets to see his show.
She tags along, stands in the crowd . Looks up at the man that she turned down.
He was a vader boi she said I see your dark side boi. He wasn't good enough for her.
Now he's a lord of the sith slammin on his light saber to show pretty face what he's worth.
Sorry girl but you missed out. Well tough luck that sith's mine now. We are more than just apprentices. This is how the story ends. Too
bad that you couldn't see.. see the sith that boi could be. There is more than meets the eye, I see the force that is inside.
He's just a boi, and I'm just a girl.
Can I make it anymore obvious?
We are in love.
Haven't you heard how we block eachother's sword?
I met the vader boi I see your dark side boi.
I'll be backstage after the show.
I'll be at the cruiser singing the song he wrote about a girl he use to know.
I met the vader boi I see your dark side boi.
I'll be backstage after the show.
I'll be at the cruiser singing the song he wrote about a girl he use to know.
Aceito palpites e propostas de clipe e gravação.
Felipe Meyer me convidou para escrever sobre o ARG do batman/coringa no Nanquim. O relato estava disponível aqui, mas agora já está publicado no Nanquim: Confiram.