Archive for the 'direitos' tag
A bebida Alpino Fast tem gerado muitas críticas à Nestlé desde que um post no blog Coma Com Os Olhos chamou a atenção para a ausência de chocolate Alpino no produto. A história ainda se desenrola e pode render processo e multa.
Se não me engano, o picolé Alpino da Nestlé está no mercado ha mais tempo do que a infame bebida. Eu ao menos o consumo ha mais de ano, muito antes de ouvir falar dela.
Mas hoje, influenciado pela polêmica "fast" finalmente investiguei propriamente a embalagem do picolé e de fato encontrei o aviso de que não há chocolate Alpino na composição do produto.
O que torna a situação mais grave é que a descrição no site da Nestlé diz claramente que o picolé é feito com Alpino.
Afinal, tem Alpino ou não tem?
Viver em sociedade é uma arte bastante complexa. Tão complexa que ainda não a dominamos. Dizemos uns aos outros que sim, mas é uma ilusão. O caos do trânsito é uma das maiores provas disso. Escrevo isso com os exemplos de São Paulo e Belo Horizonte em mente, as cidades em que vivi. Mas sintam-se livres para aplicar a suas realidades.
Sociedade
Um dos grandes problemas de viver em sociedade é separar a esfera pública da esfera privada. Claro que existem momentos em que elas se cruzam, e esses são os mais delicados. Para os que não entendem essa diferença, tenho um exemplo crasso: Se você é mordido pelo cachorro da sua sogra, trata-se de um problema privado. Se você é mordido por um cão solto na rua, é um problema público.
Uma solução para o primeiro exemplo seria cortar relações com a sogra, ou terminar o namoro. Em casos extremos, sacrificar o cachorro. Já no segundo caso, recomendo chamar a carrocinha, ou até mesmo adotar e adestrar o cão.
Experimento mental
Mas o que fazer quando o problema é transporte? A quem reclamar? Façamos um experimento mental digno de Newton:
O Sr. Andante quer de ir de A a B e não consegue, pois não existe um meio de transporte público para isso. Ou até existe, mas não é conveniente o suficiente para seu grau de exigência. A solução "rápida" e "fácil"? Comprar um carro, claro. Sr. Andante tornou-se então, o Sr. Volante.
Assim, ele sai serelepe todos os dias para trabalhar com seu libertador automóvel. O tempo passa, e todos os seus vizinhos percebem que têm o mesmo problema. Alguns nem tem o mesmo problema, mas vêem o Sr. Volante passeando feliz e ficam com inveja. Cansam de pegar ônibus. E com o tempo, todos eles compram seus carros.
É então que acontece isso com eles e todos aqueles que fazem o trajeto entre A e B: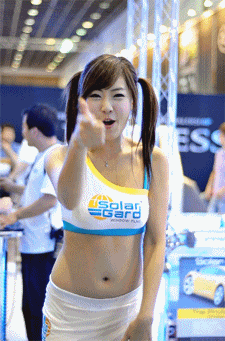 E o que era algo prazeroso e prático para alguns torna-se um inferno para muitos. Não apenas para eles, mas também para aqueles que por opção ou não, ainda tomam outros meios de transporte. O problema de falta de transporte público não foi resolvido e criou-se um segundo, o de volume de tráfego, que intensifica o primeiro.
Individualismo e a perda do prazer
O mais interessante é que quando atingimos recordes de congestionamento, todos os motoristas ficam indignados, como se os engarrafamentos fossem causados por todos os outros carros menos o deles. Gostaria muito de ter esse carro solúvel.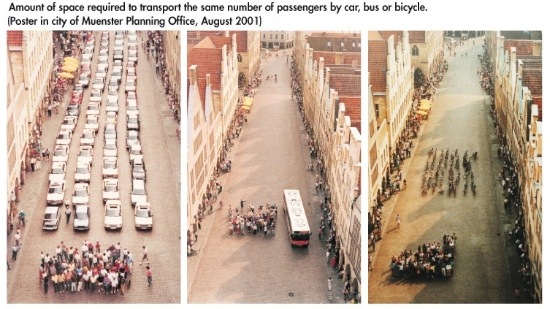 Certa vez, estava em um ônibus e o motorista indignado xingava todos os motoristas solitários que atrapalhavam o trajeto. Vamos colocar em perspectiva a mentalidade de um motorista solitário que fecha ou corta um ônibus:
"Há 30 pessoas naquele ônibus. Mas quem tem prioridade aqui sou eu. Eu preciso chegar no meu destino mais rápido do que elas."
Um mundo regido pelo transporte individual é um mundo regido pela mentalidade do "eu é que importo". Não há incentivo ao crescimento e cooperação. Apenas competição.
É curioso, ou se preferirem, estúpido, que para locomover uma pessoa de cerca de 70kg, o meio mais desejado seja um objeto de quase uma tonelada movido a um motor de combustão interna que solta poluentes e gera altos gastos em manutenção. E quanto maior, melhor. Também é preciso ter um motor potente, muitos opcionais distrativos e customizações infinitas. O carro deve refletir a personalidade de seu dono. Minha roda deve expressar quem eu sou.
Mas na hora do "vamo-ver", congestionamentos não discriminam o quanto você gastou no seu transporte:
Quando colocamos o problema desta maneira, sempre surge alguém para se fazer de vítima "ah, mas eu preciso do carro porque bla bla bla" -- Não me interessam suas histórias pessoais. Não estou aqui para falar de excessões, mas sim de regras. Regras para conviver em sociedade. Claro que há casos em que o carro é uma ferramenta útil. E sim, ele é um objeto interessante. Eu gosto de carros, como objetos. Eu tenho um. Não o uso para trabalhar, pois eu quero ter prazer em dirigir, e dirigir todos os dias não me dá prazer algum.
Heróis subsidiados do egoísmo
Sou afortunado, vivo em uma região relativamente abundante em transporte público, mesmo que não tanto quanto eu gostaria. Posso sempre pesquisar uma alternativa a usar meu carro, e geralmente ela existe. E muitas das pessoas que gostam de dizer "mas transporte público é uma merda" ou "mas eu preciso usar o carro porque bla bla bla" também têm a mesma sorte, o que elas não têm é coragem de admitir que:
Têm medinho de andar de transporte público
Acham transporte público algo pobre e indigno
Têm preguiça
Ou em casos extremos:
Nossa suposta elite não é capaz de entender que não está solucionando problema algum. Estão apenas solucionando o problema individual delas, e agravando outro no processo. Restam aos sem opção/dinheiro seguir usando um sistema deficitário cujos defeitos são agravados por aqueles que não pensaram coletivamente.
Não que os usuários de transporte público sejam heróis. A maioria deles está lá por falta de opção mesmo. Caso contrário juntariam-se aos Volantes e continuaram agravando a situação sem parar para pensar sequer um minuto. E o que as autoridades fazem? Gastam bilhões para continuar incentivando o transporte motorizado individual. Literalmente subsidiando a propriedade privada. Se numa via não se pode passar bicicletas, pedestres ou ônibus restam apenas os carros particulares.
Gosto bastante de ouvir motoristas reclamando da "indústria de multas", como se fossem vítimas de uma gangue de agentes do governo. Ora bolas, você cometeu uma infração ou não? Se não, recorra, se sim, cale a boca e pague a multa. Poucos lembram-se que dirigir não é um direito, é uma concessão. Que pode, e deve, ser suspensa caso o dono dela não se comporte. Ter um sistema de transporte público eficiente é um direito, um que poucos cobram, preferindo acovardar-se dentro de seus carros.
Esse tipo de reclamação egoísta é o retrato de uma classe privilegiada acostumada a dar seus jeitinhos mas completamente intolerante aos erros alheios.
Um exemplo de que pode funcionar
Ainda não está convencido de que transporte público é melhor que privado? Conheça Top Gear. Um programa da BBC sobre carros, onde uma das atividades preferidas é colocar um carro contra outra forma de transporte. No exemplo abaixo, um Nissan GTR contra o transporte público japones (englobando trens, ônibus, balsa e teleférico) atravessando o Japão:
Pra quem não quer ver todas as partes eu digo: O carro ganha por 5 minutos. Mas vale lembrar que ele fez isso ultrapassando o limite de velocidade e com um trajeto 240 kilometros menor.
Se você quiser ver mais, ainda temos um Peugeot 207 perdendo de praticantes de Parkour:
E um Fiat 500 perdendo de ciclistas:
Claro que são extrapolações, mas são divertidas.
O individual vs o coletivo
Problemas coletivos não são solucionados por iniciativas individuais. Resolver o seu problema não resolve O problema. A solução para o transporte é uma rede eficiente, educação consistente e fiscalização -- tanto dos motoristas privados quanto do sistema público. Dizer que o sistema atual é uma merda e continuar atopetando as ruas de carros e motos não vai melhorar a situação, é preciso cobrar das autoridades, e cobrar com causa -- reclamar do carro vizinho não vai fazer o transito melhorar, reclamar da falta de ônibus ou metrô, possivelmente.
Reflita: você precisa mesmo do seu carro todos os dias? Não existe outro meio de chegar onde você quer? Enquanto habitantes de bairros distantes sofrem para ir de casa ao trabalho, moradores da Vila Mariana vão de carro ao shopping almoçar.
Uma solução que proponho é tratarmos socialmente os motoristas solitários (aqueles que conduzem seus carros apenas para si mesmos, indo e vindo do escritório a 6km de distância, ou seguindo para alguma banalidade) da mesma maneira que nossa sociedad têm tratado os fumantes, ou os bêbados. Afinal, não estão esses motoristas basicamente externalizando as consequencias de seus atos como eles?
Por que não coibir, ou até mesmo proibir, o trajeto de carros particulares com apenas um ocupante? -- Salvo necessidades especiais como idosos, deficientes e etc. Aproveitemos para banir todos os carros oficiais de qualquer repartição pública. Regulamentar de uma vez por todas as profissões e empresas de entrega?
Você pode achar essas medidas extremas, mas não estamos além do extremo do aceitável em termos de qualidade de vida quando o assunto é o direito básico de ir e vir? Falta de serviço adequado, soluções gambiarrescas, lógicas deturpadas, falta de senso coletivo e altos níveis de stress que com certeza fazem tão mal à saude quanto fumo passivo.
Temos que botar a boca no trombone. Reclamarmos a todos que tem ouvidos. Encher o saco de individuos, instituições e autoridades. Atacar por todas as frentes, pedindo não apenas uma rede decente de transporte em nossas cidades, mas também uma melhor educação e fiscalização do trânsito, leis ainda mais rígidas e mais táxis nas ruas com tarifas não insultantes.
Como referência de que não estou louco em minhas declarações, encerro esse texto voltando ao movimento dos direitos civis, mais especificamente a Martin Luther King Jr, que dentre muitas coisas sábias, disse:
"Lamentably, it is an historical fact that privileged groups seldom give up their privileges voluntarily"
Lamentavelmente, é um fato histórico que grupos privilegiados raramente abrem mão de seus privilégios voluntariamente.
"Injustice anywhere is a threat to justice everywhere."
Injustiça em qualquer lugar é uma ameaça à justiça em todo lugar.
"Just as Socrates felt that it was necessary to create a tension in the mind so that individuals could rise from the bondage of myths and half-truths to the unfettered realm of creative analysis and objective appraisal, we must we see the need for nonviolent gadflies to create the kind of tension in society that will help men rise…"
Assim como Sócrates sentiu necessário criar uma tensão na mente para que individuos levantassem-se dos grilhões dos mitos e meias-verdades ao reino irrestrito da análise criativa e apreciação objetiva, nós devemos enxergar a necessidade de ações não-violentas para criar o tipo de tensão na sociedade que ajudará o homem a levantar-se…
Fonte (tradução por mim)
Leitura recomendada:
Do TeleSéries
Nem toda data é comemorativa. Há um ano atrás, no dia 1º de julho de 2007, o canal Fox foi protagonista de um dos acontecimentos mais absurdos da história da TV paga do Brasil. Movido por interesses comerciais, o canal simplesmente deixou na mão uma significativa parcela de seus assinantes, acostumados a assistirNip/Tuck, 24 Horas e Bones com áudio original e legendas em português. Passou a dublar todo o seu horário nobre, da noite para o dia, sem aviso prévio, sem consulta, sem dar nenhuma alternativa ao telespectador. seriados como
De lá pra cá, tudo o que o canal ofereceu ao seu assinantes foi um remendo. Ainda assim, um remendo ruim. Apenas os assinantes de algumas operadoras conseguem hoje trocar o áudio e habilitar legendas para assistir aos programas do canal – sendo que, muitas vezes, quando tem acesso a este opção, assistem programas com legendas mal feitas, fora de sincronia ou mesmo de episódios trocados.
Neste dia 1º de julho, diversos weblogs estão unidos para lembrar esta data – o canal pode ter esquecido do que fez, mas nós não esquecemos.