Archive for the 'crítica' tag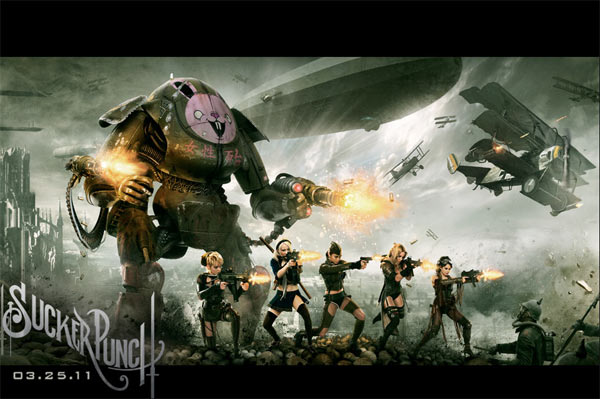 Zack Snyder está longe de ser um gênio, mas é no mínimo competente. Watchmen e Dawn of the Dead são ótimos filmes cada um em seu termo, e embora 300 seja bem fraco, ele ainda tem algum sentido. Sucker Punch é seu primeiro filme totalmente original, o que é um passo importante para qualquer diretor.
E esse passo mostra-se um tropeço dos feios.
Sucker Punch parece o fruto de um pré-adolescente. Aquele que está descobrindo que as meninas podem ser interessantes, e ao mesmo tempo brinca de comandos em ação escondido. O filme é uma desculpa esfarrapada para Snyder embolar tudo aquilo que ele acha divertido, e o resultado chega a ser patético.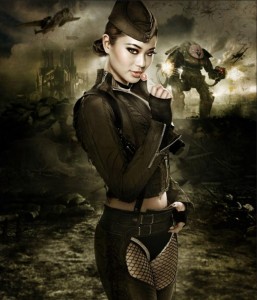 A trama trata de uma garota recém-internada em um manicômio. Que, graças a clichês, desde o começo percebemos ser um lugar terrível. A partir daí a história toda se desenrola na mente da protagonista, Babydoll; criando uma história paralela à realidade para conseguir lidar com a dor que sente e a vontade de escapar.
Histórias que se passam completamente na mente do protagonista raramente prestam. As exceções contamos nos dedos. E Sucker Punch não é exceção. Em alguns concursos literários esse tipo de premissa é inclusive proibida, pois geralmente é um golpe barato para uma reviravolta besta ou, como no caso de Sucker Punch, desculpa para misturar um sem número de elementos desconexos sem realmente ligar nenhum deles.
O propósito da ficção é nos apresentar um mundo diferente. Seja isso sutil como a história de duas pessoas, ou extremo como um universo repleto de alienígenas. E o desafio é tornar essas fantasias algo coeso e que nos prenda, por mais absurdo que possa parecer. Snyder usa a desculpa do "tudo está na cabeça dela" para se eximir dessa responsabilidade e simplesmente jogar na tela tudo que acha divertido. Imaginem o brainstorm:
Snyder: "Então a menina puxa uma espada e enfia no alienígena nazista. Em seguida, com a espada presa na cabeça dele, ela saca uma pistola e atira no dragão que aparece atrás dela. Antes que o fogo do outro dragão torre as mínimas roupas que ela usa na neve, surge uma outra gata pilotando um zepelim e a puxa pra cima com um raio trator."
Amigo do Snyder: "Nossa, que loucura! Pode ser legal. Mas difícil de engolir. Como é esse mundo louco?"
Snyder: "É tudo na cabeça da menina."
Amigo: "Hmmm. Certo, mas como esses elementos se ligam?"
Snyder: "Não precisa, pois é tudo imaginação."
Amigo: "Como assim?"
Snyder: "A história toda se passa na cabeça dela"
Amigo: "Eu entendi, mas qual é a história?"
Snyder: "Isso que eu acabei de te contar."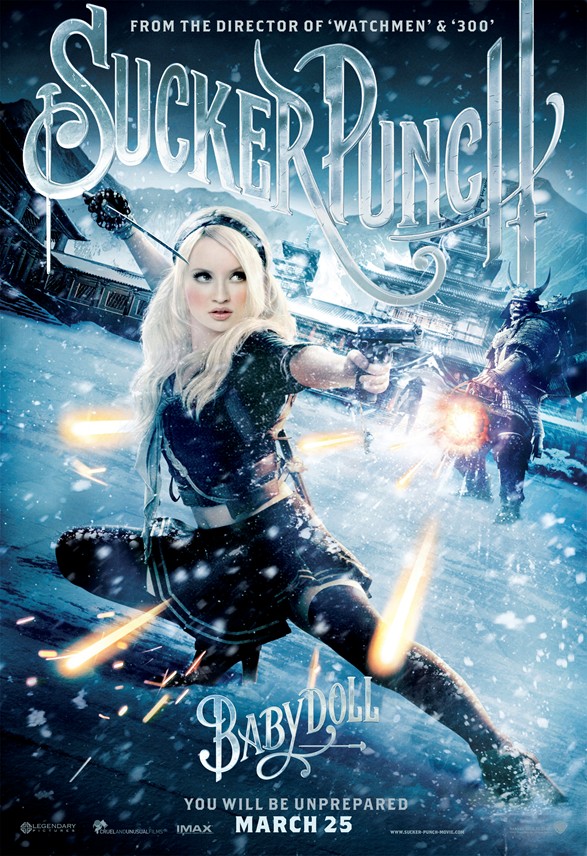 O filme só é minimamente interessante pois há gatas com roupas sensuais, boa música e um visual interessante. E o ritmo de video-game encontra videoclipe é descarado do começo ao fim. E como Snyder não é nada sutil, sua tentativa pífia de inserir alguma moral na "história" é risível.
Não é sequer possível perdoá-lo como ação boba e divertida, pois mesmo no caso de filmes assim, temos personagens interessantes e carismáticos. E não há nenhum aqui, só uma colagem de sotaques, curvas e figurinos. Pedaços ambulantes de carne colorida que não tínhamos a desgraça de conhecer desde Star Wars Episódio I.
Depois disso, Snyder precisa voltar a fazer adaptações. E é justamente o que vai acontecer, com Superman. Mas depois de Cluster Fuck, tenho medo. Sucker Punch is for Suckers.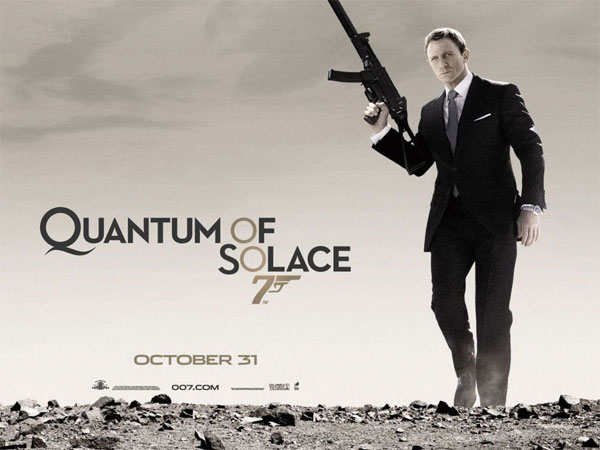 A série de James Bond é famosa por uma combinação de fatores: Ação, carros, gadgets, mulheres e o charme irrefreável do personagem principal, além de outras cositas. Com o passar das décadas suas tramas foram ficando cada vez mais mirabolantes e algumas sequências também. Depois de "
Um Novo Dia Para Morrer
" Bond encontrou-se numa encruzilhada: Continuar com o estapafúrdio ou entrar para o crescente clube dos "
hiper-realistas
"(um termo de artes plásticas que estou aplicando livremente a cinema).E sabiamente tomou a segunda opção.
O hiper-realismo está permeando os mais diversos gêneros (até mesmo óperas espaciais), tentando segurar o público cansado de exageros de computação gráfica que tiveram seu ápice em Matrix. Outros JBs,
Jason Bourne
e
Jack Bauer
, influenciaram grandemente o novo rumo da franquia tomado em Casino Royale. Essa nova mania têm trazido boas incursões, mas como toda mania, pode cansar.
Quantum of Solace leva os rumos tomados em Casino Royale ao extremo. Agora Bond quase não fala, só dá porrada. E muita. Ele usa e abusa de sua licensa para matar, até tomando broncas de M. Como foi amplamente divulgado, o filme abandona diversos elementos consagrados na franquia. A parte dos gadgets está lá, mas de uma maneira em que os gadgets simplesmente já estão presentes no mundo, apenas com um poder um pouco ampliado.
E isso é ao mesmo tempo a força e a fraqueza de Quantum. O filme é sabiamente mais curto que Casino, com um ritmo rápido e diversas sequências de ação nos mais diversos cenários e meios. Bond toma a terra, a água e o ar. O problema no filme é que Bond não tem charme algum. Até na hora de conquistar a garota é na base da apelação.
Para nos lembrar que estamos vendo 007 há elementos pontuais como a direção de arte de alguns cenários, o Aston Martin, M e uma excelente referência à Goldfinger. Ao mesmo tempo que busca o hiper-realismo como estilo, em termos de enredo o filme começa a voltar no tempo dentro da série Bond, reintroduzindo conceitos estapafúrdios clássicos como a organização maligna misteriosa e o covil remoto do vilão.
Em resumo, é um ótimo filme de ação, mas como filme Bond ele peca pela falta de finesse. O filme é tecnicamente impecável, assim como suas atuações, o seu problema está no roteiro, que apesar de ser bom, se distancia demais da marca Bond. Frases de efeito ou penduricalhos não fazem tanta falta, o que faz de Bond único é sua capacidade de não perder a compostura, em Quantum of Solace ele sequer a adquire.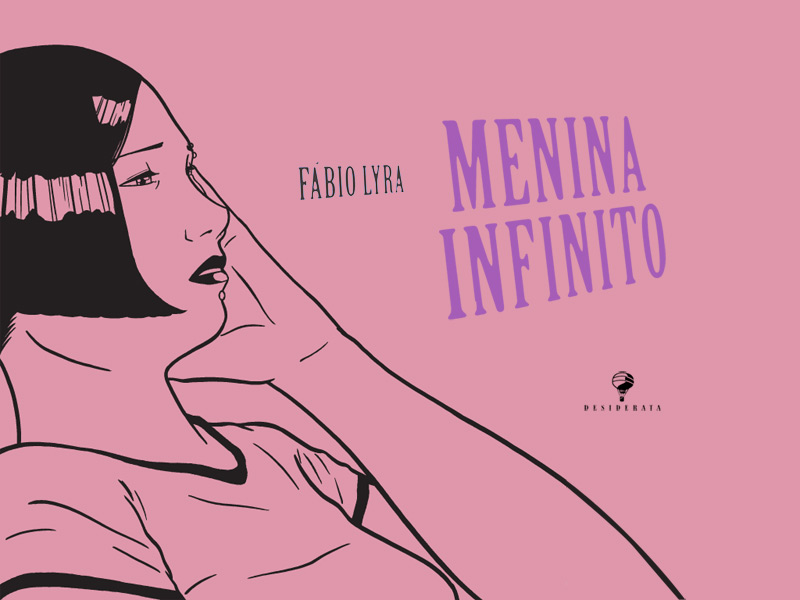 Os saudosos leitores da revista Mosh devem se lembrar daquela personagem gordinha e moderninha que figurava por suas páginas. Quem nunca leu agora tem uma boa oportunidade para conhecê-la. Mônica é a Menina Infinito, uma garota tipicamente urbana que toca sua vida cercada do universo pop, no álbum recém lançado de Fábio Lyra.
Há alguns anos os quadrinhos brasileiros tem vivido um período interessante. Álbuns de diversos estilos e de boa qualidade saindo e encontrando espaço até em grandes livrarias. Não pesquisei o suficiente para saber se é o caso de Menina Infinito, mas encontrá-lo para comprar não deve ser difícil.
Claramente influenciado por artistas norte-americanos como Daniel Clowes e Terry Moore, Menina Infinito tem mais pé no chão, o que indica a influência do inglês Nick Hornby. Aliás, Hornby dá o tom básico do que se esperar de Menina Infinito, se você gostou de Alta Fidelidade, não há como dispensar esse quadrinho.
Mônica é uma garota moderninha, no estilo pós-punk anti-hippie e anti-emo como tantas que permeiam as grandes cidades do Brasil e do Mundo. Ela tenta segurar um emprego por tempo suficiente para saciar seus desejos de consumo de cultura pop enquanto troca confidências e se diverte com seus amigos. Fã de Amélie, ela não declara, mas se comporta como aqueles que acreditam no mantra "você é o que você gosta".
Não há nada de fantástico em sua vida, nem de recriminável. Mônica e seus amigos não são perfeitos, mas também não são excessivas, embora Mônica saiba do que gosta e do que quer, não sabe bem o que ser. Um retrato sem julgamentos dos jovens adultos atuais, ela pode ser tanto uma filhinha de papai de 17 anos, como uma batalhadora de 25.
O quadrinho em si é executado muito bem, apesar de um pequeno erro de continuidade que percebi, existe bastante atenção à detalhes, inserindo referências pop à rodo sempre que possível. Não há pressa em contar a história ou textos em excesso (um problema em quadrinhos desse tipo).
O grande mérito de Menina Infinito é mostrar que existe diversidade nos quadrinhos brasileiros, algo além da profusão de clones de mangá ou poesias visuais auto-indulgentes. Algo de semelhante ao trabalho dos gêmos Fabio Moon e Gabriel Bá.
Mas há um perigo aqui. Fábio Lyra pode tomar diversos caminhos a partir desse ponto. Seria interessante vê-lo trabalhar outros universos, mesmo que com a mesma personagem. Caso haja continuação para o universo de Mônica, seria bom ver a personagem evoluir ou lidar com outras questões além dos meninos da vez ou em que apartamento morar. E obviamente Lyra é capaz disso, como demonstrou sua participação no álbum "Irmãos Grimm em Quadrinhos", basta explorar a capacidade.
Veja mais sobre Menina Infinito no site oficial (há um preview em PDF para baixar)
OBS: Soltei essa crítica também no Overmundo e na minha comunidade Quadrinhos BR. Dê um pulo na comunidade para ver a promoção e ganhar uma cópia. A Promoção já acabou, super rápido! Quem levou foi o Sean.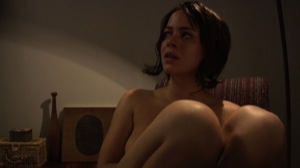 Começo declarando que não sou leitor de Clarah Averbuck, portanto não posso contrapor o filme Nome Próprio com suas obras, sejam os livros ou andanças digitais. Dito isso posso declarar com sinceridade que o filme é ruim.
Depois de uma seção cheia de carinhas conhecidas (pelo público e por mim) e desconhecidas (só por mim) nos dirigimos a um bar e o filme causou tão pouco impacto que demorou a surgir como assunto. É de minha opinião que um filme de impacto não pode esperar tanto tempo, seja ele sensacional ou uma grande porcaria. Nome próprio não é uma grande porcaria, mas que é ruim, isso é.
Em primeiro lugar, a personagem principal, Camila Lopes, é um saco. Não estou falando daquela conversa fiada de "não me identifiquei", não preciso me identificar com um personagem para gostar dele. Camila é o tipo de personagem, que obviamente existe no mundo real, já encontrei alguns clones, que não me apetece. Concordo que isso pode ser um problema meu, e não do filme, mas considerando que o filme gira total e completamente em torno dela, fica difícil fazer uma análise objetiva.
Camila pertence à safra de adoradores de Bukowski. Filhinhos de papai que acham que a vida tem que ser muito muito louca; no melhor estilo Hunter Thompson estereotipado. Viajar muito, beber muito, transar muito e usar drogas muito. Tudo é muito, inclusive ser mala. Camila é uma mala sem alça e não posso deixar de simpatizar com todos os homens que a usam durante o filme; o triste é que no fundo mesmo é isso que ela quer.
Sua ânsia de escrever me parece sempre em segundo plano de suas loucurinhas. É uma desculpa esfarrapada para florear seus reais objetivos. Tanto que quando ela finalmente resolve escrever seu livro ela não escreve porra nenhuma, liga a picaretagem no último e manda ver. Nada de errado com isso, mas no caso de Camila saiu como hipocrisia.
Tecnicamente o filme tem seus altos e baixos. A atenção a alguns detalhes da produção são louváveis, especialmente no computador: como ela usar um sistema operacional de verdade, ter problemas de conexão, dar comandos reais no teclado e vários e-mails verossímeis. A perspectiva de dentro do monitor, mesmo que estilizada, foi um belo toque que poderia ter sido mais explorado como linguagem. Aatemporalidade foi interessante também, com tecnologias diferentes se misturando, não sei se foi intencional, mas gostei.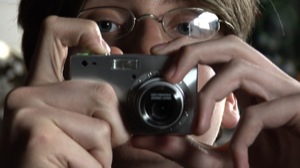 Já as outras personagens não possuem qualquer profundidade. Temos a amiga louquinha reprimida, a amiga conservadora que deu certo na vida, o chifrudo, o pai tosco e é claro, o nerd. Com certeza o que irá causar maior revolta. É um sujeito feio, com cara de bobo que usa óculos, tem um Nintendo 64 e aplica um "boa noite cinderella" light. Para os paranóicos a mensagem fica: "Nerds são tarados perigosos".
Já os intermináveis momentos em que textos surgiam na tela ao som de teclas batendo dessincronizadas com o ritmo de Leandra Leal foram de uma pobreza impar. Misturar letras e imagens é uma arte delicada. Bons quadrinhistas sabem que uma deve complementar a outra, que não farão o menor sentido sozinhas. Isso vale para qualquer meio que for aplicar essa combinação. E ter a atriz teclando com o que ela escreve estampado na tela não acrescenta em nada. Se não é possível buscar imagens que complementem as palavras, coloque então as palavras num fundo preto e me poupe do barulinho chato. O poder das duas formas de comunicação ficou completamente diluído.
Com várias cenas longas demais os outros aspectos técnicos como fotografia, iluminação e edição são problemáticos. Não desmereço o esforço dos envolvidos, não sei as circunstâncias em que o filme foi produzido, mas quando há poucos recursos, a dificuldade de ser bem-sucedido é dobrada.
O ponto positivo é Leandra Leal, que apesar de ter que carregar uma mala ao longo do filme, mostra que é capaz de explorar vários estados emocionais e situações físicas. E que situações, ela fica pelada por boa parte do filme e transa muito. Na mesa do bar até questionamos se não houve uma ação real.
A sinopse do filme para mim é: Camila Lopes é uma garota acabou de ser chutada de casa depois de trair o namorado. Ela entra em um mundo de cerveja quente, anfetaminas e muita putaria. Com uma boca suja de dar vergonha, ela deposita sua mente em um blog. Ou seja, é uma pornô-chanchada com um vocabulário mais amplo.