Archive for the 'blogs' tag
Os defensores da "mídia tradicional" e detratores das novas formas de comunicação colaborativas adoram dizer que apenas instituições tem a estrutura e o preparo para nos passar informações abalizadas e completas. Livres de erros e cheias de responsabilidade.
Hoje pela manhã estava vendo o Bom Dia Brasil, algo que não faço há muito, e não sinto falta. É uma tradição que meus pais seguem desde que eu era minúsculo, quando o programa continha cafés da manhã com políticos patrocinados pelo banco Econômico. Nele vi uma "reportagem" que me deixou enojado, falando sobre os trabalhadores das alturas de São Paulo – aquela reportagem que todo mundo já viu umas 10 vezes, que eles guardam na gaveta e reciclam a cada três meses.
Uma matéria de 6:29 minutos gastou exatos 37 segundos com um escalador de janelas em um prédio do Itaim e o tempo restante falando sobre os alpinistas que estavam instalando a decoração de Natal da Ponte Octavio Frias (a.ka. Ponte Estaiada, a.k.a. Estilingão). Uma obra duramente criticada em seu custo e função, em especial fora da mídia tradicional (i.e. blogs – exemplo1, exemplo2, exemplo3, exemplo4, exemplo5…).
O segmento foi emendado por outro falando sobre a decoração de Natal na Lagoa da Pampulha, que ostenta uma árvore tão medonha à luz do dia quando a paulistana. Poucos minutos depois dessa overdose, no meio da previsão do tempo, a gatinha do tempo consegue falar ainda mais sobre a decoração do estilingão.
E agora, no fim do expediente, me deparo com este vídeo:
Aos desavisados: The Onion é um site que produz notícias falsas. De maneira extremamente convincente. É interessante notar como esse programa intencionalmente falso é tão realista que é possível enganar alguns desatentos. Tecnicamente ele é idêntico a um telejornal normal, sendo que sua intenção não é informar, mas fazer rir.
Mas me fez refletir o quanto daquilo que nos é dito nas notícias "verdadeiras" tem de fato o intuito de informar.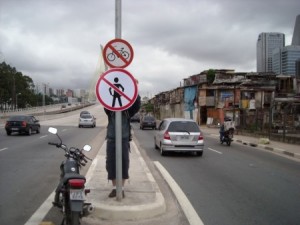 OBS: Vale lembrar que o Estilingão, além de uma ponte onde não circulam bicicletas ou ônibus, é o cenário do jornal local global SPTV.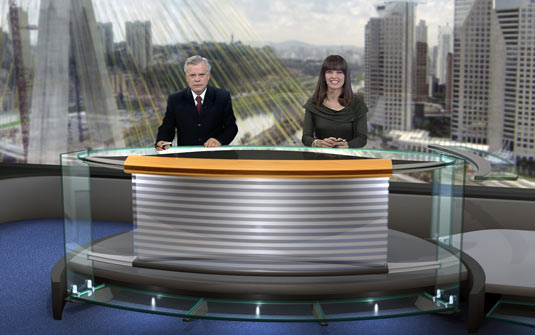 Boa noite.
Meu fim de semana foi raptado pelo Yahoo! Para começar, na sexta participei com alguns amigos da FlickrNight. Quando vi pela primeira vez sobre o FlickrDay fiquei morrendo de inveja daqueles que participaram. Ainda mais considerando que adoro o Flickr e seus recursos, chegando a ficar indignado com quem tem e não usa direito.
A participação na FlickrNight era aberta. Não havia um seleto grupo de fotógrafos convidados especialmente pelo Yahoo! e todo esse lance conspiratório. Para entrar na brincadeira bastava ir ao grupo do Flickr e mandar um e-mail. Quem mandasse antes de esgotarem as vagas da festa estava dentro, simples assim.
Claro que um tal grupo seleto devia ter lugar garantido. Mas até aí não é obrigação alguma do Flickr me fornecer festas. O evento não foi alardeado na home do Yahoo! Mas sua realização não era segredo, para ficar sabendo bastava já ser uma pessoa que fuça e descobre. Houve badulaques: camiseta, botton, limpador de lentes e uma sacola de feira (?).

Nesta parede havia uma foto minha.
Domingo foi a vez do Yahoo!Posts. O evento de lançamento do novo projeto do qual meu outro blog, o Orientalize, faz parte. A localização do evento me deixou com a pulga atrás da orelha: O Estádio do Pacaembu. Fui na esperança de uma pelada blogueira, que infelizmente não aconteceu. Apenas uma apresentação do projeto em um clima descontraído, muito bate-papo e comes e bebes. Apenas pisamos na grama e posamos para uma foto, além de fazer palhaçadas.

Isso era pra ser uma barreira, mas não sei quem faz barreira assim
O mimo da vez foi a camiseta com seu nome e o do blog estampados, como um time de futebol (com mais de 100 jogadores). Além dos comes e bebes, massagistas na volta ao vestiário (das quais não usufrui por preguiça de pegar fila), brincadeiras com os pufes e o tapete de campo de futebol. Também fui "convidado" a fazer embaixadinhas, provavelmente o maior vexame do evento, o vídeo, se publicado, merece ir para alguma galeria de FAIL. Entre os presentes, alguns conhecidos reais, outros virtuais e mais alguns completos estranhos.

Se esse blog é no15, o Orientalize só pode ser 16.
Para quem não sabe o que é Yahoo!Posts ainda, o projeto entrará no ar a partir de quarta-feira. Será uma área nova de conteudo do Yahoo!Brasil onde há uma coleção de chamadas para posts de destaque em blogs pré-selecionados. Dependendo da qualidade do post, chamadas na Home também podem acontecer. O critério para seleção dos blogs não foi revelado e no futuro pretende-se agregar mais blogs. Para entender melho, sugiro este post do Knuttz.