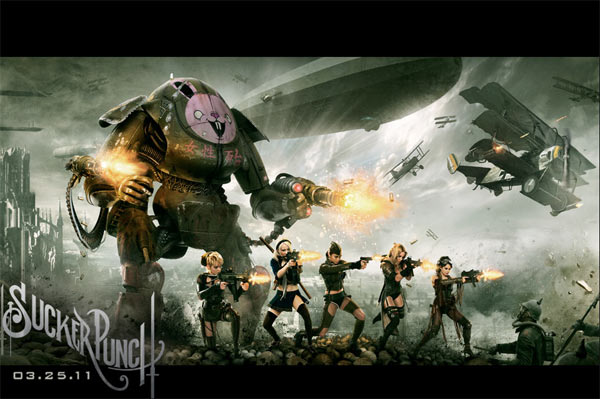 Zack Snyder está longe de ser um gênio, mas é no mínimo competente. Watchmen e Dawn of the Dead são ótimos filmes cada um em seu termo, e embora 300 seja bem fraco, ele ainda tem algum sentido. Sucker Punch é seu primeiro filme totalmente original, o que é um passo importante para qualquer diretor.
E esse passo mostra-se um tropeço dos feios.
Sucker Punch parece o fruto de um pré-adolescente. Aquele que está descobrindo que as meninas podem ser interessantes, e ao mesmo tempo brinca de comandos em ação escondido. O filme é uma desculpa esfarrapada para Snyder embolar tudo aquilo que ele acha divertido, e o resultado chega a ser patético.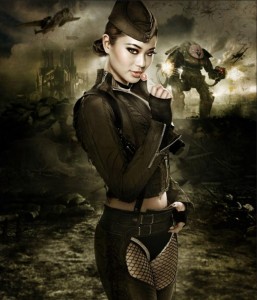 A trama trata de uma garota recém-internada em um manicômio. Que, graças a clichês, desde o começo percebemos ser um lugar terrível. A partir daí a história toda se desenrola na mente da protagonista, Babydoll; criando uma história paralela à realidade para conseguir lidar com a dor que sente e a vontade de escapar.
Histórias que se passam completamente na mente do protagonista raramente prestam. As exceções contamos nos dedos. E Sucker Punch não é exceção. Em alguns concursos literários esse tipo de premissa é inclusive proibida, pois geralmente é um golpe barato para uma reviravolta besta ou, como no caso de Sucker Punch, desculpa para misturar um sem número de elementos desconexos sem realmente ligar nenhum deles.
O propósito da ficção é nos apresentar um mundo diferente. Seja isso sutil como a história de duas pessoas, ou extremo como um universo repleto de alienígenas. E o desafio é tornar essas fantasias algo coeso e que nos prenda, por mais absurdo que possa parecer. Snyder usa a desculpa do "tudo está na cabeça dela" para se eximir dessa responsabilidade e simplesmente jogar na tela tudo que acha divertido. Imaginem o brainstorm:
Snyder: "Então a menina puxa uma espada e enfia no alienígena nazista. Em seguida, com a espada presa na cabeça dele, ela saca uma pistola e atira no dragão que aparece atrás dela. Antes que o fogo do outro dragão torre as mínimas roupas que ela usa na neve, surge uma outra gata pilotando um zepelim e a puxa pra cima com um raio trator."
Amigo do Snyder: "Nossa, que loucura! Pode ser legal. Mas difícil de engolir. Como é esse mundo louco?"
Snyder: "É tudo na cabeça da menina."
Amigo: "Hmmm. Certo, mas como esses elementos se ligam?"
Snyder: "Não precisa, pois é tudo imaginação."
Amigo: "Como assim?"
Snyder: "A história toda se passa na cabeça dela"
Amigo: "Eu entendi, mas qual é a história?"
Snyder: "Isso que eu acabei de te contar."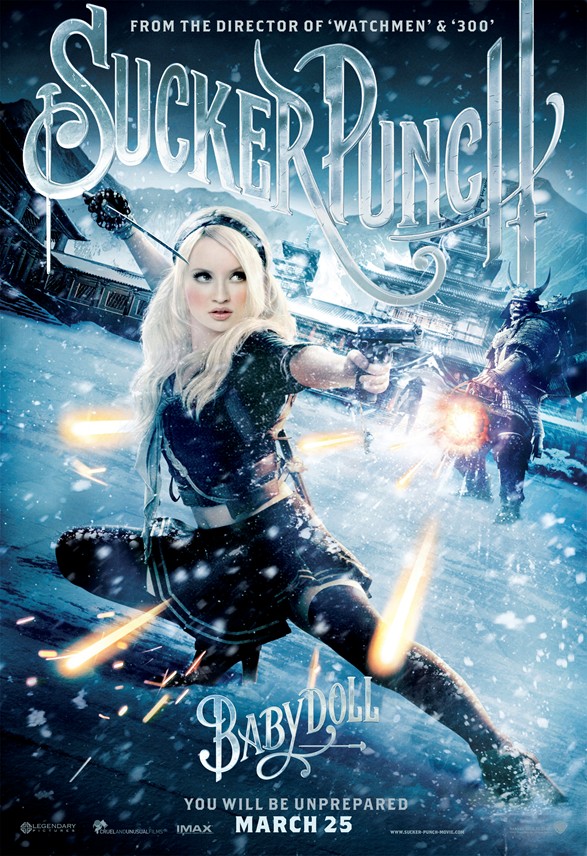 O filme só é minimamente interessante pois há gatas com roupas sensuais, boa música e um visual interessante. E o ritmo de video-game encontra videoclipe é descarado do começo ao fim. E como Snyder não é nada sutil, sua tentativa pífia de inserir alguma moral na "história" é risível.
Não é sequer possível perdoá-lo como ação boba e divertida, pois mesmo no caso de filmes assim, temos personagens interessantes e carismáticos. E não há nenhum aqui, só uma colagem de sotaques, curvas e figurinos. Pedaços ambulantes de carne colorida que não tínhamos a desgraça de conhecer desde Star Wars Episódio I.
Depois disso, Snyder precisa voltar a fazer adaptações. E é justamente o que vai acontecer, com Superman. Mas depois de Cluster Fuck, tenho medo. Sucker Punch is for Suckers.
One Response to 'Sucker Punch SUCKS BALLS'
Leave a Reply